Nonstop Flights to Europe Just Dropped to $129 in This Airline's Big New Year's Sale
To many Americans, Europe is a mysterious place, filled with thin, handsome people who drink in moderation and regularly dress like it's date night. While this image is partially true (many Europeans refuse to wear shorts, for example), people who've traveled across the Atlantic will tell you that, actually, the most intimidating part of a trip is the price of a plane ticket.
But now Norwegian Air wants to help you get over the financial obstacle and explore the continent yourself, by bringing prices down to as low as $129 -- and generally under $150 -- in a huge New Year's sale that lasts from now through Sunday, January 12. The flash sale started on Tuesday, and tickets are expected to disappear fast, so you may want to get a plan together fast if you want to, say, spend Valentine's Day in Madrid.
Before the Icelandic airline WOW Air ceased operation (stranding thousands in the process), travelers could rely on its budget prices to get them across the Atlantic. But times are tough now, and deals like the one we're seeing with Norwegian don't appear very often (think: Chicago to London for $140). Let's break it down.
First off, some maybe good/maybe bad news. Offers are only available from the following airports:
East Coast: JFK (New York), BOS (Boston)
Florida: MIA (Miami), FLL (Fort Lauderdale), MCO (Orlando), TPA (Tampa)
Central: ORD (Chicago), AUS (Austin), DEN (Denver)
West Coast: LAX (Los Angeles), SFO (San Francisco), SEA (Seattle)
If one of these airports are in your reach, you can find out which destinations are discounted by entering your airport in the dropdown at the top of the official sale page and viewing the average prices for each month.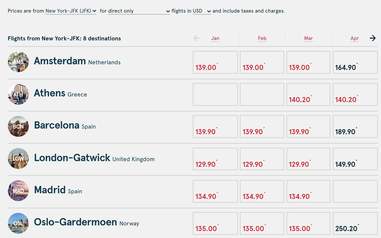 norwegian.com
When you click the abbreviated month at the top of the city list, the chart will open to a week-to-week viewing, and when you click the week, it will open to day-to-day:
norwegian.com
You get the idea.
The two discount windows currently available are from January 14 through March 31 and September 1 through October 24, with blackout dates for public holidays and weekends. Norwegian allows for one free carry-on, but you'll have to pay more if you want to show Europeans all of your fancy pants. Here's everything you need to know before you go.
Sign up here for our daily Thrillist email and subscribe here for our YouTube channel to get your fix of the best in food/drink/fun.