Move Fast: Flights to Europe for Under $300
Unless you're ordering a flight of craft beer, flights don't get much cheaper than this. Right now, Norwegian Air Shuttle has dirt cheap flights available on their Low Fare Calendar, including a round-trip from New York City to Copenhagen for just $286 throughout January and February 2017 (more cities below). Flights are popping up for as low as $306, but thanks to a nice little conversion tip from The Flight Deal, those tickets can be had for $286.
To get yourself to Copenhagen, head to Norwegian's Low Fare Calendar and move to the Norwegian Denmark website. You'll want to book your flight in Danish Krone. The current conversion rate will save you those few extra dollars, which you can spend on whatever the hell you want, in Denmark.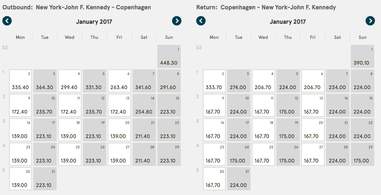 Screengrab Norwegian.com
Over that same time span, you can grab tickets from Boston to Copenhagen for $347, Los Angeles, Las Vegas, or Fort Lauderdale to Copenhagen for $384, San Francisco to Copenhagen for $458, Orlando to Copenhagen for $487. There are plenty of other deals right now, so it's worth a bit of digging. For example, you can travel from New York to Paris for $373. JFK to Helsinki can come in as cheap as $374. It's worth digging around. If you're going to be freezing somewhere in the middle of winter, it might as well be somewhere you don't call home.
There are, of course, a couple catches to these deal, even beyond the fact that you have to move fast because deals on flights are always fleeting. Norwegian is an airline that can nickel and dime you into a month of eating microwave Ramen when you get back home. If you truly want this to be a cheap trip, you'll have to pack light. You get one free 10kg carry-on, and you'll have to pay for anything else, with a single bag starting at $45.
But if you can get your goods in a carry-on, you're headed to Europe for cheaper than most flights across the continental United States. Take in the original Little Mermaid, traverse a canal, and then spend your night in Copenhagen's version of Hamsterdam.
Sign up here for our daily Thrillist email, and get your fix of the best in food/drink/fun.
Dustin Nelson is a News Writer with Thrillist. He holds a Guinness World Record, but has never met the fingernail lady. He's written for Sports Illustrated, Men's Journal, The Rumpus, and other digital wonderlands. Follow him @dlukenelson.