If your grand plan to make it to Europe this summer somehow escaped you, it's not too late to score yourself a budget-friendly overseas vacation before the end of the year. That's because Norwegian Airlines launched a huge sale on Monday, featuring flights to several European hotspots this fall from a bunch of U.S. cities for as little as $89 one way. 
Whether you're a perpetual wanderluster or looking to make your first trip abroad, Norwegian's latest latest batch of deals includes a slew of options that make it easy to leave the country for a bit without dropping much cash. It has deals from 12 airports across the United States to 14 different cities in both Europe and the Caribbean. And while you have a few days to think about how to finagle your vacation schedule, you shouldn't wait too long to secure a seat since the sale ends at 11:59pm on September 5, and the best tickets will probably disappear before then.
The sale isn't limited to East Coasters, either. There are seriously cheap flights from a number of cities across the country including Ft. Lauderdale/Miami, Orlando, Tampa, New York, Boston, Providence as well as Los Angeles, Oakland/San Francisco, Las Vegas, Chicago, and Denver. You can scope out the full rundown of budget-friendly fares on Norwegian's flash sale page. 
Here are some of the best one-way flight deals:
Ft. Lauderdale/Miami to Madrid, Barcelona Rome, Stockholm, or Paris for $159
New York to Edinburgh for $89
New York to Dublin or Shannon, Ireland for $99
New York to Paris for $129
New York to Copenhagen, London, Madrid, Oslo, Stockholm, Barcelona, or Rome for $149
Providence/Boston to Dublin for $99
Oakland/San Francisco to Barcelona, London, or Paris for $149
Los Angeles to Barcelona, London, or Madrid for $169
Chicago to London for $149
Las Vegas to London for $169
Denver to London for $169
New York or Ft. Lauderdale/Miami to Guadeloupe or Martinique for $69
Recommended Video
France's Fête des Lumières Is a Light Festival Unlike Anything You've Ever Seen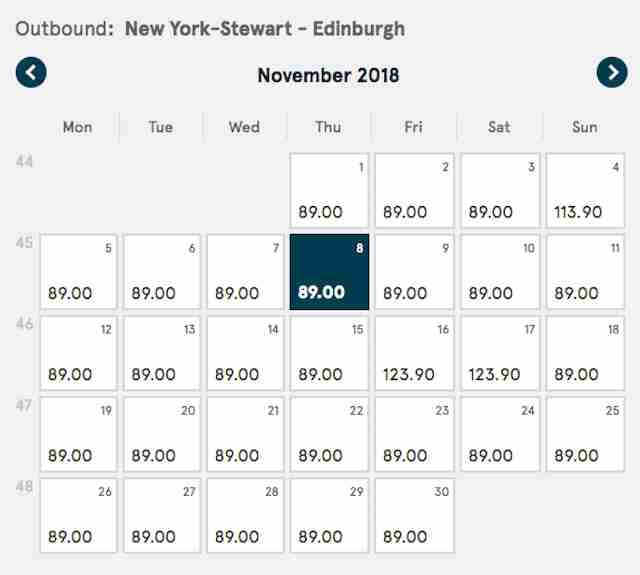 In terms of timing, you have a pretty big window to travel, since there are seriously cheap fares for flights between October 31, 2018 and March 31, 2019. However, since Norwegian is a discount airline, there are some restrictions you should keep in mind before booking. For instance, these are "LowFare" flights, which means you'll have to pay extra if you want to check a back or reserve a seat ahead of time. Another thing to consider is that the prices for return flights are significantly more expensive than outbound ones, so a roundtrip journey may end up being a bit pricier than you'd like.
Then again, even if you can't manage to squeeze all you need into a carry-on bag and are paying a bit more to get home, you'll still probably be paying less than you would anywhere else to fly overseas.
Sign up here for our daily Thrillist email and subscribe here for our YouTube channel to get your fix of the best in food/drink/fun.