With Labor Day behind us and the summer travel season essentially over, you might be feeling a bit regretful that you didn't get out of town -- or the country -- a bit more this year. However, if you can scrounge up a few of your remaining vacation days, there's still a chance to flee overseas for cheaper than you think. Norwegian Airlines is currently running a huge sale, featuring flights from all over the US to popular European destinations for as little as $89.
For anyone who's been itching to squeeze in a European getaway, odds are there's something in this sale to tempt you. The batch of deals includes a whole bunch of one-way tickets from 12 airports across the country to 14 different cities in both Europe and the Caribbean. Fortunately, you have a few days to consider your options and recruit friends to join you on your trip, since the sale has been extended through 11:59pm on September 14. That said, the best tickets (and lowest prices) will likely be gone before then.
No matter where you live in the States, it's likely there's a deal from a destination airport near you, since there are great bargains to be had from Ft. Lauderdale/Miami, Orlando, Tampa, New York, Boston, Providence, Los Angeles, Oakland/San Francisco, Las Vegas, Chicago, and Denver. To scope out the full lineup of cheap flights, they're all on Norwegian's flash sale page. 
Here are some of the best flight deals right now:
Ft. Lauderdale/Miami to Madrid, Barcelona Rome, or Paris for $159
New York to Edinburgh for $89
New York to Dublin or Shannon, Ireland for $99
New York to Paris for $129
New York to Copenhagen, London, Madrid, Oslo, Stockholm, Barcelona, or Rome for $149
New York to Amsterdam for $139
Providence/Boston to Dublin for $99
Providence/Boston to Paris for $129
Los Angeles to Barcelona, London, or Madrid for $169
Oakland/San Francisco to Barcelona, London, or Paris for $149
Chicago to London for $149
Las Vegas or Denver to London for $169
New York or Ft. Lauderdale/Miami to Guadeloupe or Martinique for $69
Recommended Video
You Can Now Get Artisanal Twinkies Delivered to Your Door in NYC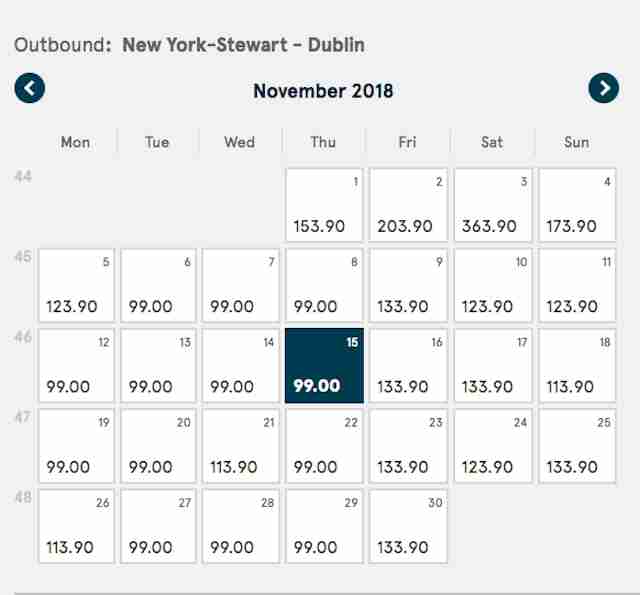 Your cheap travel options aren't limited just to this fall, either. The sale has cheap fares for flights between October 31, 2018 and March 31, 2019. It's worth noting, though, that Norwegian is a discount airline, which means there's some fine print and restrictions to consider before you pull the trigger on trip planning. For one, the deals apply to "LowFare" flights, which means you'll have to pay extra to check a bag or reserve a seat ahead of time. That shouldn't be an issue since it's pretty simple to stuff all you need in a carry-on anyway. 
So go forth, round up your remaining PTO, and pencil in a long-haul getaway sometime soon. You deserve it.
Sign up here for our daily Thrillist email and subscribe here for our YouTube channel to get your fix of the best in food/drink/fun.