This Bar Will Literally Ban You for Saying the Word 'Literally'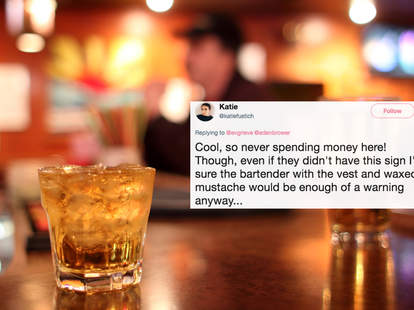 Using some words in excess might render you a pedant in the eyes of your local neighborhood snob. But saying the word "literally," for instance, will fashion you persona non grata at Continental, a dive bar in New York's East Village.
The local watering hole raised eyebrows for neighborhood bar flies and beyond this week when it instituted a new policy: Anyone who says the word "literally" will promptly be asked to leave. The new house rules were laid bare in a sign outside of the bar, which quickly garnered a fair share of critics after it was spotted in the wild and posted to Twitter: 
According to the sign, users of the word are guilty of the brazen sin of "Kardashianism," which is apparently a large, societal issue. Continental's ground rules are simple: If you're caught saying the word "literally," you have five minutes to finish your drink and vacate the premises. If you begin a sentence with "I literally," then you'll be immediately banished from whence you came, no exceptions.
"This is the most overused, annoying word in the English language and we will not tolerate it," the sign reads. "Stop Kardashianism now!"
As one would expect, the harsh imposition got swept up in the internet's daily cycle of angry tweets.
People like this don't give a shit about language. They're just self-important, generally misogynistic blow hards who get off on feeling superior to (mostly) young women. Anyway, good morning all! https://t.co/gr5A21hcJ2

— Allegra Hobbs (@AllegraEHobbs) January 24, 2018
Cool, so never spending money here! Though, even if they didn't have this sign I'm sure the bartender with the vest and waxed mustache would be enough of a warning anyway...

— Katie (@katiefustich) January 24, 2018
The bar's owner Trigger Smith, whose name gives him the air of an aspiring cowboy, expressed concerns about the English language, namely that it's falling victim to more overwrought phrases and words. In an interview with Grub Street, he admitted that phrases like "My bad" and "Know what I'm saying" also spark his ire. 
Continental's reputation for imposing strict rules reminiscent of Coyote Ugly have also sparked criticism in the past. Yelp reviews over the years complain that bartenders don't serve water for free, and that bouncers occasionally turn patrons away in favor of locals. Others argue that braving the somewhat abrasive atmosphere is worth it, largely because the bar serves insanely cheap drinks (it's famous for serving five shots of any liquor you want for $12). 
Despite all that, Continental still holds a special place in the minds of many New Yorkers, especially proponents of the city's early punk and hardcore scenes. (Joey Ramone used to hang there for Chrissakes!).
The bar is set to pour its last drinks later this year, as it's nasty demeanor couldn't really keep up with inflation. You have until this August to get banned before Continental shuts its doors forever. 
Sign up here for our daily Thrillist email and subscribe here for our YouTube channel to get your fix of the best in food/drink/fun.
 
Sam Blum is a News Staff Writer for Thrillist. He's also a martial arts and music nerd who appreciates a fine sandwich and cute dogs. Find his clips in The Guardian, Rolling Stone, The A.V. Club and Esquire. He's on Twitter @Blumnessmonster.