NYC Is Facing Major Flash Flooding, Here's How Travel Is Being Impacted
The city's transit has largely been shut down by the remnants of Tropical Storm Ophelia.
On Friday morning, New Yorkers woke to a city that was largely underwater. The New York City area is under a state of emergency due to one to two inches of rainfall per hour, according to Governor Kathy Hochul. No one in NYC had been warned to stay at home on Friday morning—children went to school, and workers commuted to their jobs. Now, people are navigating how to get home safely, how to navigate living in basement apartments, and other dangers.
Flash flood warnings have already been issued in Manhattan, Brooklyn, Queens, the Bronx, Staten Island, and Long Island. The MTA has announced that most subway service has been suspended. Here's what to know about the natural disaster, its travel impacts, and the city's response.
All public transit in NYC has been disrupted
It is not just subway service that has been disrupted. All service that the Metropolitan Transit Authority oversees has been impacted by the historic flooding.
"Service across our network is severely disrupted due to this extreme rainfall. Please stay home if you don't need to travel," the MTA shared in a tweet. The agency urged travelers to head to MTA.info to find information about specific routes. For any route, you should plan on using extra caution.
In videos shared to social media, underground train stations have been flooded, and certain stations have standing water a few feet outside of the station. Some buses also appear to be flooding.
You can see subway routes that are suspended or partially suspended below. Portions of the Harlem, Hudson, and New Haven lines have been suspended. Bus routes will need to be searched by number.
A travel advisory has been issued for NYC
The New York City Emergency Management Department has issued a travel advisory for all of Friday, September 29 through Saturday, September 30. Citywide averages of rainfall are predicted to be between two and four inches, though in some areas five inches or more is expected.
"New York City will be under a flood watch starting tomorrow and we urge New Yorkers to prepare for heavy rain and potential flooding throughout Friday and Saturday morning," said NYC Emergency Management Commissioner Zach Iscol, in a statement. "All New Yorkers need to exercise caution. If you must travel, consider using public transportation and allow for extra travel time, and if you must drive, do not enter flooded roadways. If you live in a basement apartment, especially in a flood prone area, be prepared to move to higher ground."
The agency also shared safety tips for navigating extreme rainfall. Read them below:
Allow for extra travel time. New Yorkers are urged to use public transportation.
If you must drive, drive slowly. Use major streets or highways for travel whenever possible.
If you live in a basement apartment in a flood-prone area, prepare to move to higher ground.
Do not drive into flooded streets or enter flooded subway stations.
Check on friends, relatives, and neighbors, especially older adults and people with disabilities, access and functional needs, or health conditions. Help them to prepare if needed.
Stay informed. Before and during an emergency, the City will send emergency alerts and updates to New Yorkers through various channels, including Notify NYC. Sign up for emergency notifications at NYC.gov/NotifyNYC or call 311. You can also follow @NotifyNYC on Twitter.
These are the NYC neighborhoods most affected by flooding
NYC Floodnet has a live map detailing which neighborhoods are dealing with the highest volume of flooding. South Williamsburg in Brooklyn and Hamilton Beach in Queens are the highest impacted neighborhoods, with more than 12 inches of floodwater in each neighborhood.
Other neighborhoods dealing with extreme flooding include City Island, in the Bronx, Gowanus in Brooklyn, Far Rockaway in Queens, and Midland Beach in Staten Island.
New York airports have been issued ground stops
At 9:30 am on Friday morning, access to LaGuardia Terminal A was closed, according to LaGuardia Airport, and it will remain closed for further notice. By 10:55 am, the Federal Aviation Administration issued a ground stop at JFK due to thunderstorms—shortly after, a ground stop was issued at LaGuardia as well.
According to ABC News, LaGuardia's fueling stations and access roads have been flooded.
At Newark International Airport, a ground stop has not yet been issued as of this writing, but flights are delayed an average of 53 minutes, according to the FAA. Based on data from FlightAware, LaGuardia has had 87 flights delayed, and 83 flights canceled originating from the airport, and 135 delayed and 78 canceled arriving flights.
On the FlightAware Misery Map, NYC currently has the highest number of delays and cancellations in the US.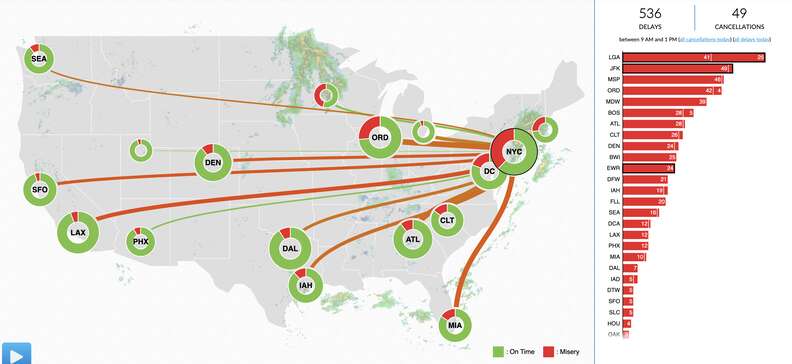 How to stay safe in flash floods
Whether you're in an established flood zone or not, flood waters like those in New York City are extremely dangerous. According to the National Weather Service there are a few key tips you need to keep in mind during a flood:
Stay informed
Get to high ground
Follow evacuation orders
Avoid floodwaters

See the complete guidance from NWS here.