Everything You Need to Know About the 2018 NYC Marathon on Sunday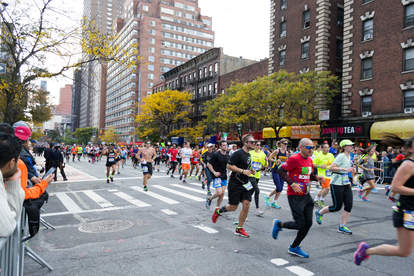 As it does every autumn, the city will host the 2018 New York City Marathon on Sunday, November 4, with over 50,000 runners winding their way through all five boroughs in hopes of finishing the 26.2 mile course. This year's marathon is on track to be the world's biggest and most popular marathon to date, and nearly two million spectators are expected to cheer from the sidelines.
Though, as exciting as it all is, the whole thing can be a bit intimidating even if you're not the one hoofing it around the whole damn city. So, before you set your alarm for early Sunday to get a front-row look at the spectacle of it all, here's everything you should know about the 2018 NYC Marathon.
When does the 2018 NYC Marathon start?
This year, the marathon kicks off at 8:30am for the Professional Wheelchair Division, 8:52am for the Achilles Handcycle Category and select athletes with disabilities, and 9:20am for the Professional Women. The rest of the runners will kick off in four waves starting at 8:50am, with the final wave starting at 11am. Just remember, this weekend is also Daylight Savings, so don't forget to "fall back" and set your clocks back an hour Saturday night.
When does the 2018 NYC Marathon end?
The official end time of the race is 7:25pm, but all closed streets and bridges will reopen well before then. There will be "sweep busses" following the marathon route at a 6.5 hour marathon pace, and streets and bridges will reopen once they pass. However, the average marathon finish time for men and women is roughly 4.5 hours, so the majority of runners will likely cross the finish line between 2-5pm.
What is the 2018 NYC Marathon course map?
The race kicks off as it does every year in Staten Island, and makes its way over the Verrazano Bridge into Brooklyn, where runners head north through Williamsburg and Greenpoint, and into Queens. It then heads over the Queensboro Bridge into Manhattan, up the East Side and Harlem into the Bronx, and then winds back down for a final stretch along Fifth Avenue and into Central Park, which is where the finish line is. For a more detailed and specific look at the route, you can check out the official course map
here
.
What roads and bridges will be closed or affected?
A whole bunch of roads and bridges will be affected for a good chunk of Sunday, starting around 7am, so it's worth checking before you head out in case you need to seek an alternate route. Here are all the closures to be aware of.
Staten Island
Richmond Terrace between Jersey Street and Bay Street
Jersey Street between Richmond Terrace and Victory Boulevard
Victory Boulevard between Jersey Street and Bay Street
Bay Street between Richmond Terrace and School Road
Fingerboard Road between Bay Street and Tompkins Avenue
Tompkins Avenue between Fingerboard Road and School Road
School Road between Bay Street and Staten Island Expressway
Lily Pond Avenue between Staten Island Expressway and Father Capodanno Boulevard
McClean Avenue between Lily Pond Avenue and New York Avenue
Front Street between Wave Street and Edgewater Street
Hylan Boulevard between Bay Street and Olga Place
Steuben Street between Olga Place and West Fingerboard Road
West Fingerboard Road between Steuben Street and Hylan Boulevard
Sand Lane between Hylan Boulevard and Father Capodanno Boulevard
Father Capodanno Boulevard between Sand Lane and Lily Pond Avenue
Verrazano Bridge
Brooklyn
Dahlgren Place between Verrazano Bridge and 92nd Street (Northbound)
92nd Street between Dahlgren Place and 4th Avenue
Brooklyn Queens Expressway (southbound) between Verrazano Bridge and 79th Street
Gatling Place/79th Street BQE Entrance Ramp between 83rd Street and 79th Street
7th Avenue (southbound) between 79th Street and 74th Street
74th Street between 6th Avenue and 7th Avenue
6th Avenue between 74th Street and 75th Street/Bay Ridge Parkway
75th Street/Bay Ridge Parkway between 7th Avenue and 4th Avenue
Fort Hamilton Parkway between 92nd Street and 94th Street
94th Street between Fort Hamilton Parkway and 4th Avenue
4th Avenue between 94th Street and Flatbush Avenue
Flatbush Avenue between 4th Avenue and Lafayette Avenue
Lafayette Avenue between Flatbush Avenue and Bedford Avenue
Bedford Avenue between Lafayette Avenue and Nassau Avenue
Nassau Avenue between Bedford Avenue/Lorimer Street and Manhattan Avenue
Manhattan Avenue between Nassau Avenue and Greenpoint Avenue
Greenpoint Avenue between Manhattan Avenue and McGuinness Boulevard
McGuinness Boulevard (southbound) between Greenpoint Avenue and Pulaski Bridge
Pulaski Bridge (southbound)
Queens
11th Street between Pulaski Bridge and 48th Avenue
48th Avenue between 11th Street and Vernon Boulevard
Vernon Boulevard between 48th Avenue and 10th Street
10th Street between Vernon Boulevard and 44th Drive
44th Drive between 10th Street and Hunter Street
Hunter Street between 44th Drive and Crescent Street
Crescent Street between Hunter Street and Queens Plaza South
Queens Plaza South between Crescent Street and 23rd Street
Queens Plaza North between Crescent Street and 23rd Street
23rd Street between Queens Plaza South and Queens Plaza North
Queensboro Bridge (eastbound)
Queensboro Bridge Bicycle and Pedestrian Path
Manhattan
Queensboro Bridge (vehicle entrance ramp eastbound)
59th Street between 2nd Avenue and 1st Avenue
60th Street between 1st Avenue and 2nd Avenue
1st Avenue between 59th Street and Willis Avenue Bridge
Madison Avenue Bridge (westbound)
142nd Street between Lenox Avenue and 5th Avenue
5th Avenue between 142nd Street and 138th Street
Madison Avenue (FDR service road) between 135th Street and 142nd Street
5th Avenue between 138th Street and 124th Street
124th Street between 5th Avenue and Mount Morris Park West
Mount Morris Park West between 124th Street and 120th Street
120th Street between Mount Morris Park West and 5th Avenue
5th Avenue between 120th Street and 90th Street
90th Street between 5th Avenue and East Drive
East Drive between 90th Street and Grand Army Plaza
Grand Army Plaza between East Drive and 59th Street
59th Street between 5th Avenue and Columbus Circle/8th Avenue/Central Park West
Columbus Circle between 59th Street and Central Park Driveway
Central Park Driveway/8th Avenue Approach to West Drive
West Drive between 8th Avenue Approach and 85th Street Approach to West Drive
85th Street Approach to West Drive
81st Street Approach to West Drive
77th Street Approach to West Drive
67th Street Approach to West Drive
Bronx
Willis Avenue Bridge
East 135th Street between Willis Avenue and Alexander Avenue
Alexander Avenue between East 135th Street and East 138th Street
East 138th Street between Alexander Avenue and 3rd Avenue
3rd Avenue between East 138th Street and East 139th Street
Morris Avenue between East 139th Street and East 140th Street
East 140th Street between 3rd Avenue and Rider Avenue
Rider Avenue between East 140th Street and East 138th Street
East 138th Street between Rider Avenue and Madison Avenue Bridge
What's the weather forecast for the NYC Marathon?
After a pretty wet race for in 2017, this year's marathon is shaping up to be solid, weather-wise. As of this writing, the forecast calls for a partly sunny day on Sunday, with a high temperature of 55 degrees (though it'll likely be in the mid-40s during the morning when runners are in the thick of things).
How can I find out where a particular runner is on the course at any given time?
Fortunately, it's never been easier to keep tabs on a particular runner during all the madness, which is incredibly helpful if you want to know exactly when and where to keep your eyes peeled. The official
TCS NYC Marathon app
has a feature that allows you to search by runner name or bib number, and get a sense of where that person is along the course. The app also provides a section on
recommended viewing locations
. Alternately, you should be able to track any runner via
this webpage
.
If you aren't able to make it there in-person, you can catch the whole thing from your couch, too. The race will be broadcast live on ABC7 from 9am to 2pm (you can also stream it on ABC7NY.com). It'll also be live on ESPN from 9am to 12:30pm.
What notable athletes and celebrities are running the 2018 NYC Marathon?
The NYC Marathon is typically a big draw for celebrity and other bold-named runners, and this year's is no different. Actors Teri Hatcher and Brian d'Arcy James are running, as well as Tiki Barber. You may also spot chef and restauranteur Daniel Humm, model and formal pro rugby player Nick Youngquest, or Olympic bronze medal-winning luger Erin Hamlin, all of whom will be hitting the course on Sunday.
Sign up here for our daily Thrillist email and subscribe here for our YouTube channel to get your fix of the best in food/drink/fun.