This Corner Store Delivers Plan B on Seamless, Just in Case You Need it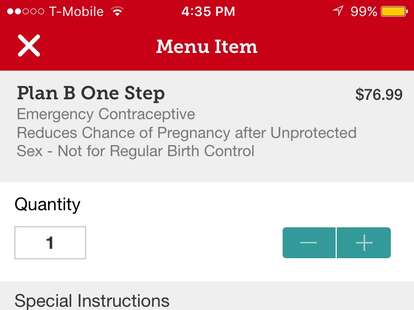 Look, we all make questionable decisions, and occasionally wake up in a fog of regret and confusion. That's why it's great that an institution like Seamless exists, because you can order a bounty of hangover remedies. But in New York City, a Seamless order can also get you the emergency contraceptive Plan B if you live within a stone's throw of a humble deli called the Corner Grocer.
Yes, you read that correctly. With the great advent of the online marketplace, you can have Plan B delivered to your door for the premium price of $76.99. And no, this is not a ruse. There's hard, photographic evidence that such a scheme exists:
If you've gone especially hard the night before and are scared of seeing daylight, the Corner Grocer can help you feel less like a vampire. In one fell swoop, you can order a sandwich, gatorade, and a little Plan B on the sly. The deli basically suffices as a pharmacy on wheels -- they've also got Flonase, toilet bowl scrubbers, and the like -- which we suppose gives them an advantage in the trenchant bodega scene. They also deliver whippets, which is probably the most New York City thing to happen since Christopher Walken was declared the city's king.
The sandwich peddler's peculiar menu item was first spotted in a Reddit thread, which is understandably inspiring all sorts of lols and confusion. And why not? It's extremely weird, but also cool that an unassuming neighborhood grocer is here to help, just as it should be.
So yes, now you can order Gatorade, a sandwich, and Plan B to handle all the bad decisions you made last night. Corner Grocer has all your bases covered.
Sign up here for our daily Thrillist email, and get your fix of the best in food/drink/fun.
Sam Blum is a News Staff Writer for Thrillist. He's also a martial arts and music nerd who appreciates a fine sandwich and cute dogs. Find his clips in The Guardian, Rolling Stone, The A.V. Club and Vice. He's on Twitter @Blumnessmonster.