O.A.R. The Band Is Getting Tons of Hype Thanks to The Olympic Athletes From Russia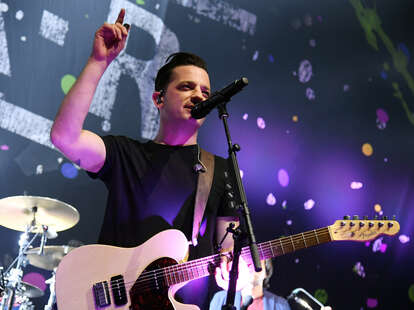 credit: getty images/getty images entertainment/Ethan Miller/Staff
O.A.R., an American indie-rock band active for 22 years, is experiencing something of a newfound spotlight, and it's all attributable to the 2018 Winter Olympics. Because of a doping scandal that's prohibited Russia from fielding an official Olympic team, the country's athletes are competing under the makeshift banner of the Olympic Athletes From Russia, or O.A.R.
This, according to an interview Mashable conducted with O.A.R. frontman Marc Roberge, has provided an unexpected boon for the band and their new single, "Paradise," which released Monday. Russia's scandal-plagued Olympic squad and its mysterious acronym has resulted in "the most coverage we've had ever" Roberge said.
The flurry of media, including calls from friends and family, started as soon as the Games kicked off.
"When the games started the phone calls started coming in, the emails, the texts — now to the point where every single morning I have a funny run-in with somebody about it," Roberge explained. "It's grown into this thing, but it's hilarious, it's awesome and I love it."
Roberge is taking the association with professional curlers and hockey players in stride. He notes he's always loved the Olympics:
"The Olympics is a huge event. I have memories my whole life watching with my family and now I do it in the mornings with my own kids."
While it's a funny coincidence, fans of American hockey are likely to take umbrage with the band's accepting attitude of the whole thing: The O.A.R. obliterated the USA in men's hockey on Saturday in a 4-0 rout.
Sadly, you can't really blame either O.A.R. for the USA's abysmal performance.
Sign up here for our daily Thrillist email and subscribe here for our YouTube channel to get your fix of the best in food/drink/fun.
 
Sam Blum is a News Staff Writer for Thrillist. He's also a martial arts and music nerd who appreciates a fine sandwich and cute dogs. Find his clips in The Guardian, Rolling Stone, The A.V. Club and Esquire. He's on Twitter @Blumnessmonster.