This Submarine Shark Tour Takes You Up Close to the Ocean's Predators
As safe as people claim it is to dive with sharks from inside a steel cage lowered beneath a boat, it's still scary as hell to be face-to-face with the toothy beasts that may or may not be plotting to smash through the bars and rip you to pieces at any moment. That's part of the appeal of a special new series of shark expeditions in the Bahamas, which will not only allow people to scope out tons of sharks up close from the safety of a submarine, but also assist in the research of their habitat alongside a crew of shark experts.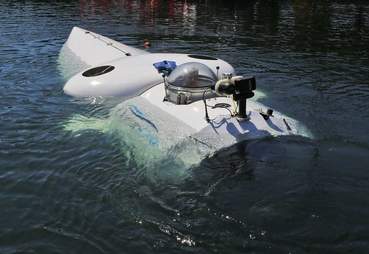 OceanGate
The expeditions are being organized by the environmental research-oriented Cape Eleuthera Institute and the submarine company OceanGate, which is the same outfit involved in the recently announced Titanic trips, which'll be shepherding rich tourists down to site of the world's most famous shipwreck next year. These aren't for the casual tourist just looking to see some sharks, though. The Bahamas Deep Sea Survey, as it's being called, is primarily a research-focused trip that's open to a select group of civilian passengers willing to pay big bucks to join. 
During the trips, the crew will be tasked with a number of research objectives as the submarine reaches depths of up to 500 meters. Besides photographing and shooting video of all manner of deep sea predators (e.g., Caribbean reef sharks, blunt nose sixgill sharks, and Cuban dogfish) to better understand their role in the ecosystem, they'll be monitoring baited video stations to measure populations and diversity along the continental shelf, and scope out the presence of invasive species like lionfish.
Since each submersible can only hold five people, the crews will be small, and each dive will last about three hours. In addition to brief safety training, civilian passengers (or "Mission Specialists") also get expert guidance and interpretation of what exactly is going on during the voyage.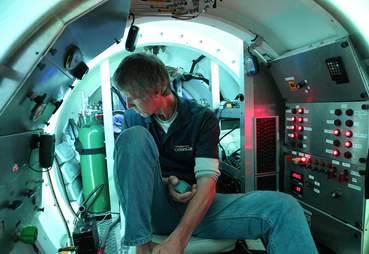 OceanGate
To be clear, a trip in a sub to scope out sharks does not come cheap. You'll need to pony up at least $10,000 to hitch a ride, and that's just the cost of a single-day expedition. If you want the three-day experience, which includes a two-night stay at a nearby resort from which you'll catch a high speed boat to the sub, that'll set you back $15,000. It's so expensive because you'll essentially be subsidizing the entire research trip itself.
The expeditions don't kick off until October, so you've still got some time to save up. For more info, head to the official Bahama Deep Sea Survey site.
Sign up here for our daily Thrillist email and subscribe here for our YouTube channel to get your fix of the best in food/drink/fun.