These Glass-Domed Cabins Let You Watch the Northern Lights in Bed
This travel package has glass-domed cabins with a once-in-a-lifetime view.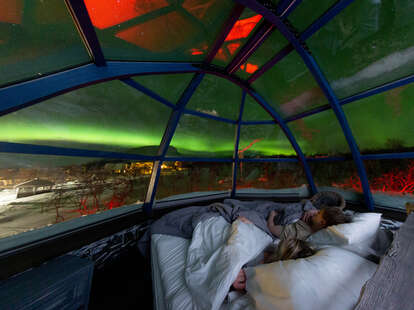 Photo by Tundrea, Courtesy of Off the Map Travel
Travel is still limited, at best, and probably involves a lot more daydreaming than actually traveling at this point. But if you're a planner, Off the Map Travel has a new escape that might subdue a couple of years of bottled-up wanderlust.
The trip involves a stay in new glass igloo cabins located in Kilpisjärvi, Finland. They are part of a travel package from Off the Map that includes two different cabins with glass roofs for your northern lights viewing experience. They're part of the travel company's "Stars of Scandinavia" experience, which shuttles you around Lapland with plenty of opportunities for stargazing and aurora hunting.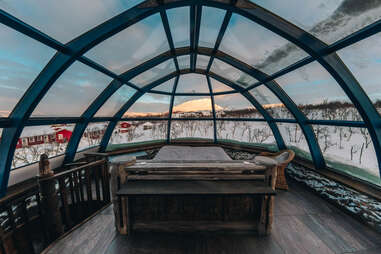 Not only are the Wau House Igloo cabins stunning, but they're genuinely useful in trying to catch the bucket list display. "The northern lights are magical, but you never know when they will appear, so we wanted to give our guests the best chance and not miss a second of the action with this new travel experience," says Founder of Off the Map Travel Jonny Cooper. The outdoor lighting is even red to ensure that stargazers don't have their night vision negatively impacted.
The next leg of the experience takes guests south to Rovaniemi and the glass-roofed Lappish Kammi Suites. You'll also get a feel for the region with husky sledding, a fat bike tour, snowmobile treks, and opportunities to learn about Sami culture in the package. The trip isn't on the house, though. The six-day, five-night package costs £1795 per person (about $2,078) and does not include flights. It does, however, provide the potential to check something off your bucket list.