Restaurants in 10 Cities Are Serving Burgers Created by Celebrities
In celebration of National Burger Day, Uber Eats is facilitating a celebrity burger competition that you can participate it.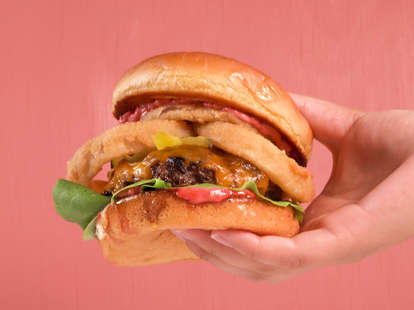 You've been cooking for yourself for long enough. You deserve some service. But don't just order any old patty -- indulge in a burger designed by someone famous. You can to that very thing on Thursday.
In celebration of National Burger Day on May 28, over 60 celebrities are partnering with restaurants in 10 cities to face off in a "Burger Showdown" hosted by Uber Eats and Off the Menu. Celebrities like Matthew McConaughey (Loro, Austin), Jason Sudeikis (Emily, NYC), Sophia Bush (Acadia, Chicago), and Paris Hilton (Atrium, LA) have designed burgers with the help of chefs from several restaurants across the country.
These burgers will be available through Uber Eats, via The Burger Showdown website, from May 28-31. Each order will serve as a vote... So, yes, this is a favorites game more than a flavor game and your options are limited based on your location, but you can also "like" any video you want on the website. Each celeb-restaurant pairing will have their own cooking video, where viewers can vote on or order the burger.
The burger with the combination of most likes and orders will be deemed the winner but, more importantly, the competition involves a big donation to Frontline Foods, an organization that benefits local restaurants and helps feed frontline workers. Viewers can also donate directly to the organization through the website.
Sign up here for our daily Thrillist email and subscribe here for our YouTube channel to get your fix of the best in food/drink/fun.
Ruby Anderson is a News Writer at Thrillist. Send your tips to randerson@thrillist.com.