This Site Shows Peak Tourist Times So You Find the Best Travel Deals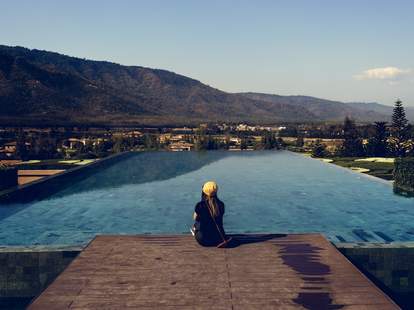 When you're planning a vacation, you can always wait for travel deals to pop up or try to take advantage of places where price wars are taking place. But more often, you're planning well in advance, and you know where you want to go. That's not always a recipe for a cheap week away.  
Offpeak.io can help you find the cheapest way to take the vacation you want. The new site uses a sleek-looking visualization to present median hotel prices on every day of the year, which can clue you into when the offseason is for some of the world's most desirable travel destinations. That's useful because, as Offpeak co-founder Eric Adleman explains, "Hotels operate with surge pricing similar to Uber and Lyft. During high demand days, they raise the prices and on low demand days they lower them."
The site doesn't just present the median hotel price and room availability. It also identifies when major events are taking place, which could impact prices. Additionally, Offpeak provides weather data to let you know what you're in for if decide to go to Iceland in February. (Cold, but still worth it.)
"The inspiration for Offpeak.io arose when I noticed drastic differences in hotel rates day by day," Adleman says. "It amazed me that the same hotel room went for $100 dollars on one night, and for $400 dollars on another. Of course, one would expect rates to be high on New Year's Eve and low during the cold winter, but they differ significantly on many more days than that."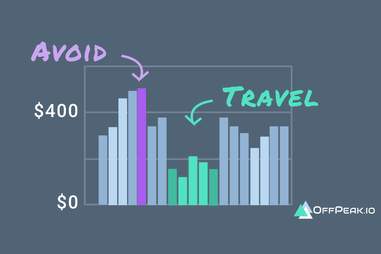 Offpeak.io
"A city-wide event could be a major tech conference in San Francisco, when the pope is visiting Philadelphia, during a 3-day annual meeting of 12,000 Dentists in New Orleans, or the night before a Total Solar Eclipse," said Adleman. "It is not a simple task to know about these events, especially when you are over 1,000 miles away. We hope to change that with Offpeak.io."
The platform is still in Beta, meaning you may encounter bugs, and it's still rolling out more cities, but it's nonetheless useful already.
Say you're planning out an early fall vacation to New York. A quick look at the site will show not only that the first and last weekend in September might be the cheapest, but that you're up against Fashion Week and the UN General Assembly in the middle of the month.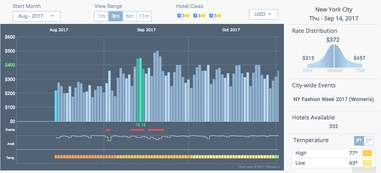 Offpeak.io Screengrab
"Our goal with Offpeak.io is to give travelers and travel planners more information to help decide where and when to travel. Think of it like traffic data on your GPS," says Adleman.
It's a tool worth bookmarking in your quest to hunt down cheap, amazing vacations.
Sign up here for our daily Thrillist email, and get your fix of the best in food/drink/fun.
Dustin Nelson is a News Writer with Thrillist. He holds a Guinness World Record but has never met the fingernail lady. Follow him @dlukenelson.