Here's Why Ohio Gets the Newest Fast Food Before Everyone Else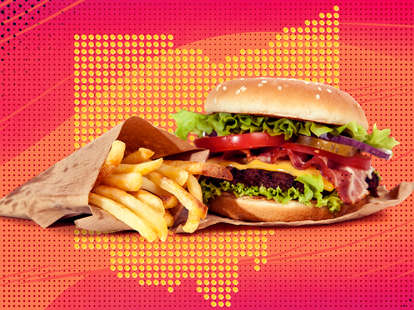 Introducing The Fasties, Thrillist's first fast food awards. Think glitzy TV and movie award show, but to honor the best things that came out of fast food restaurants in 2019. We rolled out the ketchup carpet for fast food's biggest names and handed out golden burger trophies in 16 categories. Watch the full awards show and check out the winners here.
We can thank Ohio for many history-defining innovations: the modern traffic light, aviation, and the basketball artistry of LeBron James, to name a few. But the Buckeye State also serves as an important birthplace for a fundamentally American product: new fast food items.
While Southern California modernized the fast food industry, Ohio has served a vital role in helping shape its offerings in the decades since burgers, fries, and the drive-thru redefined America. Wendy's and its signature square patties found their first hungry audiences in Columbus. Arby's turned roast beef sandwiches into a quick-serve item in suburban Youngstown. And in 2011, Toledo residents were among the very first to get their fingers stained by cheese dust from Taco Bell's Doritos Locos Taco. Ohio's track record with fast food innovation is as lengthy as it is overlooked.
So why does Ohio often get the latest and greatest in fast food months before everyone else does? We had Jamie Richardson, vice president of Columbus-based White Castle, weigh in.
"Ohio is a place where people can be free to explore new ideas," Richardson said. "It's a place where good things could happen and not retreat. You know, you saw it with the Wright brothers. And then 70 years later there's Neil Armstrong. I think there's a spirit of innovation that transcends more than in other geographies."
It's this freewheeling spirit -- plus an assortment of other critical factors -- that led to the state becoming a testing ground and incubator for new fast food creations. Of course, none of that would've been possible without the chains that started in the state in the first place.
Perhaps the most notable is Wendy's, which Dave Thomas founded in Columbus in 1969. Since then, the burger chain has exploded into an international business with more than 6,500 locations worldwide. Farther north, Arby's opened shop in Boardman, Ohio, right outside Youngstown, in 1964 when Fuzzy and Leroy Raffel wanted to introduce a higher-end fast food concept, slinging roast beef sandwiches instead of burgers. The concept somehow worked (the multinational chain's now headquartered in suburban Atlanta). There's a laundry list of other fast food and casual chains, both large and small, that call -- or used to call -- Ohio home, benefitting from the state's historically large, geographically diverse population: Buffalo Wild Wings (Columbus), Marco's Pizza (Toledo), Skyline Chili (Cincinnati), and Swenson's (Akron), among others.
Within five minutes you can go from downtown [Columbus] to a farm. So you get everything that comes along with that: the socio-economic impact, the range of demographics, income levels. You name it.
Although founded in Wichita, Kansas in 1921, it's White Castle that perhaps best speaks to Ohio's being the fast food promise land. By the early-1930s, the company had expanded to the bustling industrial Midwest and East Coast, placing locations from Minneapolis to Philadelphia and several other large cities in between. However, founder Billy Ingram felt something was off with White Castle's location, and when former partner Walt Anderson asked to sell his shares in order to enter Wichita's burgeoning aviation business, Ingram had an epiphany.
"It freed up Billy to say, 'if we're really going to be around for the long haul, where are we going to be?'" Richardson said. "It could be a lot more centrally located, and Columbus was really appealing."
White Castle was ahead of the curve, as its move foreshadowed Columbus' transformation into one of the country's premier fast food cities for both starting new businesses and testing new products. A 1985 New York Timesarticle dubs the state's now-largest city the "fast food capital of the world." The story goes on to describe Ohio 161, one of the metro area's main thoroughfares, as "fast food row," a 57-and-a-half-mile-long highway choked to the brim with every chain under the sun.
It was here, starting in the 1970s, that chains began testing their latest products to see if they'd stick. The Times article notes that "lite" menu items were among the trendy experimental options floated to central Ohio residents in the mid-1980s, with Wendy's trying out tuna sandwiches and a cottage cheese salad. While those items didn't last long, their debut showed that chains had the city front-of-mind for testing purposes. There are several reasons why, but one trumped them all.
"Columbus represents America about as well as any city in the country," Ohio Restaurant Association President and CEO John Barker told Thrillist. "Despite being the 14th-largest city in the country, it has a rural component to it. Within five minutes you can go from downtown to a farm. So you get everything that comes along with that: the socio-economic impact, the range of demographics, income levels. You name it."
The demographics of Columbus, at least compared to the rest of the state, are certainly changing -- rapidly. It's the Midwest's second-most populated city and, according to a 2019 US Census estimate, it was the only city in the region to add more than 10,000 new residents last year. Along with Cincinnati, it also added millennials, a key age group whose tastes chains are desperately trying to appeal to. Those facts, plus Ohio State University's 61,000 students, the Ohio state government, high numbers of immigrants, and an isolated media market, make Columbus a dream test market.
Recently, there's been a wide range of products tested in central Ohio. McDonald's first debuted its Sriracha Big Mac and Chicken McGriddle (now a national menu item) in the metro area, while in May 2019, Burger King designated Columbus as a market that would receive the plant-based Impossible Whopper on the item's second round of testing (it was first tested in St. Louis).
When Thrillist reached out to the latter chains to ask why they test in Ohio, Burger King declined to comment and a McDonald's spokesperson downplayed Ohio's uniqueness, simply saying, "at any given time, in select markets across the country, McDonald's and our independent franchisees are testing potential new menu items. We use these tests as a way to gather feedback from customers to inform future business decisions."
However, Richardson explains that White Castle prefers to test locally because, despite its cult following, it's still a fairly small chain and it needs to be mindful of its budget. But when it wanted to pare down its nationwide offerings of chicken sandwiches -- Richardson said the menu had eight or nine at one point -- it reached out to Dr. H.G. Parsa and the Ohio State University hospitality department to help. By soliciting feedback from Columbus residents and Ohioans, they started selling only a premium crispy chicken breast slider and a chicken ring slider, both customer favorites.
"I think trust, that's what we find when we look around Columbus," Richardson said. "We definitely are part of the fabric of our neighborhoods where we live and work and raise our families. So certainly it's familiarity, but part of it's also a recognition that the customers you encounter at our Castles in Ohio are representative of the customers we see around the country."
As for the rest of the state, chains have begun to ramp up their testing in other mid-sized (Toledo, Dayton) and large-sized (Cleveland, Cincinnati) cities, too. Columbus might be the spiritual home of fast food in the state, but the other metro areas have begun to shine for their own unique reasons.
"If you go to a city the size of Toledo, maybe there's only 10 stores you have to manage," Dr. Joe Goodman of Ohio State's Department of Marketing and Logistics said. "Sometimes you want to know how the consumers respond to it, but you're also testing it to see operationally can we produce it? And a chain might find out that the new burger's great, but it takes a long time to produce it and it's messing up the whole kitchen."
A 2015 Columbus Monthlystory points out that chains are increasingly pivoting away from the "microcosm of America" markets like Columbus to test their items, focusing on more niche markets to gather specific data about things like operability, product salience with specific demographics, and more. This explains why Ohio's older manufacturing hubs like Dayton and Toledo are entering the test-market game, as chains focus on how their new items might play among more blue-collar and Rust Belt consumers.
Taco Bell in particular has made it a point to use both of the aforementioned western Ohio cities as test markets recently. Besides Loaded Vampire Fries (Toledo) and its much-anticipated Crispy Tortilla Chicken (Dayton), Taco Bell first unleashed its industry-shattering Doritos Locos Taco in Toledo in the spring of 2011 before its nationwide launch in 2012. The taco-junk food hybrid would go on to sell more than 450 million units in its first year, but its initial flurry of hype came from northwest Ohio. The Toledo Bladementioned that the Irvine, California-based chain spent heavily on advertising, and word spread so quickly that one obsessive Taco Bell fan drove 900 miles from New York to Toledo to try one.
When reached for a statement on its testing in Ohio markets, Taco Bell's Senior Vice President of Brand Marketing and Consumer Insights, Melissa Friebe, gave a general statement about using various cities to solicit feedback from customers. However, Jim Rush, a Toledo-based marketing executive, told the Blade in 2011 that he thinks Taco Bell chose the Glass City for the same reason that others focused on Columbus for so long: its ideal cross-section of demographics.
But as population patterns begin to shift from the Midwest and Rust Belt to Sun Belt states like North Carolina and Arizona, will Ohio's place as ground zero for fast food testing change? Political pundits have already started to reconsider Ohio's bellwether status in presidential elections because of its demographic shifts into an older, whiter, and less-educated state, so it would be easy to assume the precariousness of Ohio's place in giving birth to new fast food items, too. To those on the ground in the Buckeye State, they're more optimistic that Ohio, specifically Columbus, will still factor into chains' plans.
"I'm going to go into this eyes wide open, but I really think Columbus is going to be on the cutting edge," Richardson said. "In general, I think the appeal of a place like Columbus is that it's a place where people can come to still make their dreams come true. So as a result, as the face of the nation changes, I expect Columbus will be right in lockstep with that and be a destination that people want to call home."
Sign up here for our daily Thrillist email and subscribe here for our YouTube channel to get your fix of the best in food/drink/fun.
Ryan Joseph is a freelance writer and Ohio native who thinks your Cincinnati chili hot take is trash.