The Most Expensive Thanksgiving Dinner in America Will Set You Back $76,000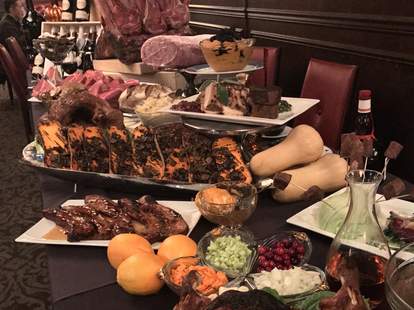 Courtesy Old Homestead Steakhouse
As much as you may enjoy a traditional home-cooked Thanksgiving feast, there's zero shame in opting to dine out for Turkey Day. After all, who wouldn't want to occasionally skip out on all the cooking, cleaning, and awkward interactions with certain bourbon-guzzling uncles?
If that's the sort of celebration you have in mind for this year, and you happen to have a spare $76,000 kicking around, the Old Homestead Steakhouse in New York City would love to have you. That's because the iconic Meat Packing District restaurant is offering a wildly extravagant and expensive Thanksgiving spread for one lucky guest and nine of their closest friends and family members, complete with a decadent menu of fancy foods from all over the world and a bounty of over-the-top, non-edible perks.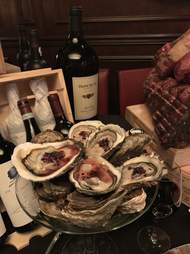 $100 king oysters

| Courtesy Old Homestead Steakhouse
For the six digit sticker price, Old Homestead is throwing in a whole bunch more than just some top-of-the-line turkey and wine. In fact, much of what's included in the package will be enjoyed outside the restaurant. It comes with four $1,250 tickets to see Hamilton on Broadway, a $7,500 Black Friday shopping spree on Fifth Avenue, two nights in a suite at the Mandarin Oriental, a chauffeured limo for the duration of your stay, guided tours of iconic NYC landmarks, a carriage ride through Central Park, dance lessons, and a $20,000 Ulysse Nardin watch.
Mashed sweet potatoes with caviar

| Courtesy Old Homestead Steakhouse
Considering you'll be paying roughly 1,520 times what it costs, on average, to feed 10 people on Thanksgiving, you better believe the dining experience is next-level. The menu is filled with exceptional ingredients imported from all over the world, with highlights including a $105/lb. turkey with a Wagyu beef and foie gras stuffing, gravy infused with $3,300 Pappy Van Winkle bourbon, whipped sweet potatoes topped with caviar, mashed potatoes with Swedish moose cheese, and king oysters that go for $100 a pop.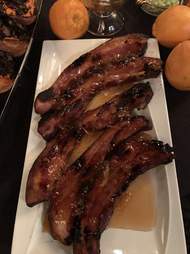 Smoked cured Japanese slab bacon

| Courtesy Old Homestead Steakhouse
While this it the priciest Thanksgiving special it's ever offered, it isn't the first time Old Homestead has organized a super-expensive promotion for the holiday. Last year it hosted something similar for the relatively reasonable sum of $50,000.
Though if for some crazy reason dropping roughly 1.5 times the median US income to dine out on Thursday isn't in your budget, the restaurant is also offering a couple more affordable options. It's also serving both a $70 and $90 per person prix fixe menu, the latter of which comes with both turkey and filet mignon.
Sign up here for our daily Thrillist email and subscribe here for our YouTube channel to get your fix of the best in food/drink/fun.