Olive Garden's Huge New Meatball Pizza Bowl Comes Loaded With 10 Meatballs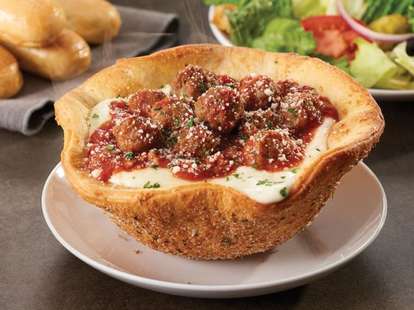 Courtesy: Olive Garden
Courtesy: Olive Garden
Olive Garden, home of fast-casual Italian comforts such as fried pasta nachos, Italiano Burgers, and other mutant dishes that might've been engineered in a comfort food lab, is back with another hybrid offering for its lunch menu, and it's a behemoth: The Meatball Pizza Bowl.
The chain has managed, through what we can only assume is careful tinkering, to combine the two most popular dishes in the Italian culinary world -- pizza and pasta -- into a single item. The Meatball Pizza Bowl is basically a flakey, baked pizza crust filled with cheese, meat, and sauce, available at all Olive Garden locations for the matinee price of $8.99. An Olive Garden spokesperson confirmed that this thing comes topped with 10 meatballs and weighs in at over a pound. Simply put, it is large and meant specifically to get you full without making a dent in your wallet.
While not as substantial as a Never Ending Pasta Pass, the Meatball Pizza Bowl is nothing to be trifled with in respect to portion size. It's being introduced as the newest addition to the Lunch Duos menu, which will enable you to pair it with unlimited salad and breadsticks, which is the Olive Garden way.
Though it looks like a dish worthy of mopping up your weekend hangover, the Meatball Pizza Bowl is only served Monday through Friday, before 3 PM. The lunch menu addition seems like a surefire way to lure people to the 800 Olive Gardens locations nationwide well before happy hour starts.
But just because it's strictly a lunch dish, there's nothing stopping you from taking it home and eating it at 3 in the morning. That, too, is also the Olive Garden way.
Sign up here for our daily Thrillist email and subscribe here for our YouTube channel to get your fix of the best in food/drink/fun.
 
Sam Blum is a News Staff Writer for Thrillist. He's also a martial arts and music nerd who appreciates a fine sandwich and cute dogs. Find his clips in The Guardian, Rolling Stone, The A.V. Club and Esquire. He's on Twitter @Blumnessmonster.