Olive Garden Is Serving Fried Pasta 'Nachos' Just in Time for the Super Bowl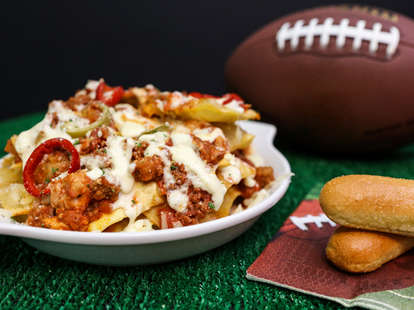 Olive Garden, in its own way, is as American as American football. Accordingly, the casual family-dining institution is releasing a new appetizer that will let you bring Olive Garden to your Super Bowl party or your Super Bowl party to Olive Garden.
How are they doing that? Naturally, with an Italian (kind of) take on nachos (kind of), which will be available at an Olive Garden near you from January 29 through April 1. Lightly fried pasta chips are subbing in for the tortilla chips, and those chips will be topped with Italian cheeses, a meat sauce featuring chicken, meatballs, and sausage, plus cherry peppers and an alfredo sauce drizzle.
If you're entertaining and want to appear at the vanguard of football hors-d'oeuvres, Olive Garden has also released a recipe. You'll be using lasagna noodles fried and tossed in garlic salt, and you'll be able to express yourself by adding your own favorite Italian toppings.
Here's the official recipe:
Pasta Chips
1. Stack lasagna noodle sheets on a cutting board.
2. Cut each sheet into 3 equal pieces
3. Heat oil into a pan and gradually add chips to the oil; fry until crispy
4. Transfer cooked chips to basket and allow the excess oil to drain for 1 minute
5. Gently toss cooked chips in garlic salt to coat
6. Add your favorite toppings
7. Buon Appetito!
Whether you get it in the restaurant or make it for your guests, we're pretty sure this is going to be a unique culinary experience.
Sign up here for our daily Thrillist email and subscribe here for our YouTube channel to get your fix of the best in food/drink/fun.


James Chrisman is a News Writer at Thrillist who apologizes if you're really into snakes. Send news tips to news@thrillist.com and follow him on Twitter @james_chrisman2.