Olive Garden's New Meatball Monstrosity Weighs as Much as Six Tennis Balls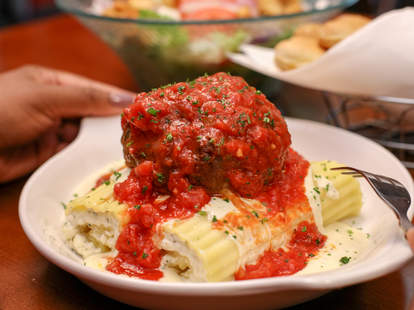 Olive Garden continues to mash together copious amounts of beef and plate it for your pleasure. The faux-Italian comfort food empire, known for Frankenstein-esque meatball pizza bowls and fried pasta nachos, will again unleash a new monstrosity when its Giant Meatball & Four Cheese Manicotti hits menus on Monday, April 2.
The operative term, "giant," is no understatement, as the chain confirms the one meatball will provide enough sustenance for a large party. Or, as a spokesperson claims, the 12 oz. beef-wad is roughly the weight of six tennis balls, two baseballs, or 11.5 golf balls. Any way you slice it, that's a lot of balls.
Here's what the spicy meatball looks like in the wild: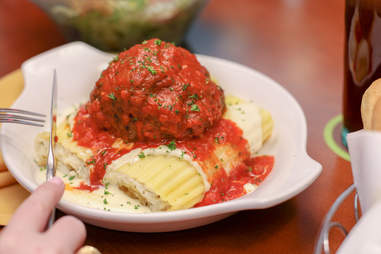 Courtesy: Olive Garden
The dish is part of Olive Garden's Big Italian Classics menu, which is returning at the chain starting Monday, April 2, and running through May 27. Also available on the new BIC lineup, are items decidedly less huge, but somewhat still classic and Italian, such as the Giant Manicotti with Meat Sauce, Stuffed Fettuccine Alfredo, and Stuffed Fettuccine Alfredo with Chicken or Shrimp.
The Giant Meatball and Four Cheese Manicotti, which consists of a handmade Italian meatball on top of a portion of manicotti filled with four cheeses, topped with homemade marinara and alfredo sauces, will sell for $17.99. Since it's handmade, Olive Garden stresses that availability might be limited.
The price point may seem steep, but then again there are enough calories in the equation to be divided among a literal mob.
Enjoy it, and then sleep for a week.
Sign up here for our daily Thrillist email and subscribe here for our YouTube channel to get your fix of the best in food/drink/fun.
 
Sam Blum is a News Staff Writer for Thrillist. He's also a martial arts and music nerd who appreciates a fine sandwich and cute dogs. Find his clips in The Guardian, Rolling Stone, The A.V. Club and Esquire. He's on Twitter @Blumnessmonster.