This Taco Belle Dress Will Make You Fast Food Royalty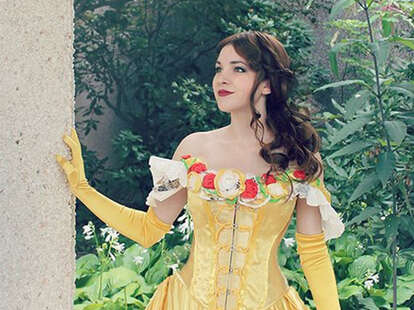 If bellying up to a midnight meal of Doritos Locos has made you feel like you've descended from a long line of fast food monarchs, you can now make those warm tingly feelings on your inside manifest on your outside. Designer Olivia Mears has used Taco Bell wrappers, painted card stock, tissue paper, and felt to make her own chalupa-riffic spin on Belle's dress from Disney's Beauty and the Beast.
The twist is tacos. Massive, delicious-looking tacos. The dress was available through Mears's Etsy shop, Avant-Geek, where she creates "post-consumer costumes, character costumes, as well as fine art paintings and puppetry."
"I had already sewn the yellow ballgown without tacos several years earlier for children's parties and it was during this time that someone snapped a photo of me while at Taco Bell and it ended up going viral," Mears tells Thrillist. "Fast forward about three years and I landed a role in a Taco Bell commercial wearing another dress I made from wrappers, so I decided to bring the Belle dress out from storage and continue the legacy."
That's right. There are multiple Taco Bell-inspired dresses that Mears has made. You can see the one from the commercial below.
The above Taco Belle ensemble isn't available at her store, but Mears does create commissioned work when she's able to take it on. So, if you absolutely must have your own Taco Belle, maybe you can find her on Instagram or Facebook to talk her into make you the princess or prince of Tamales-burgh, USA.
Sign up here for our daily Thrillist email, and get your fix of the best in food/drink/fun.
Dustin Nelson is a News Writer with Thrillist. He holds a Guinness World Record, but has never met the fingernail lady. He's written for Sports Illustrated, Men's Journal, The Rumpus, and other digital wonderlands. Follow him @dlukenelson.