The 'World's Hottest Chip' Is Back in Stores With a New, Insanely Spicy Recipe
If you can't handle the heat, stay far, far away from this chip.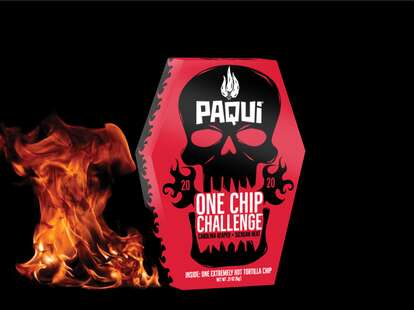 Paqui rocked spice-lovers' worlds when it first introduced "the world's hottest chip" and thus birthed the viral #OneChipChallenge. Now, the chip maker is back with a brand new, even spicier chip that's sure to make you sweat.
If you missed your chance to take the #OneChipChallenge before now, or just thought it wasn't all that spicy, the company is once again putting forth the dare. Paqui announced the release of a brand new, individually packaged chip, seasoned with Carolina Reaper Peppers, Scorpion Pepper, and Sichuan Peppercorns. I'm sweating just thinking about it, honestly.
Scorpion Pepper and Sichuan Peppercorns are new additions to the recipe. They up the spice level significantly and make this new #OneChipChallenge all the more challenging for sure. And probably all the more painful. The company warns everyone who dares to eat the chip to wear gloves or wash their hands immediately after handling it. Oh, and be sure to keep it out the reach of children.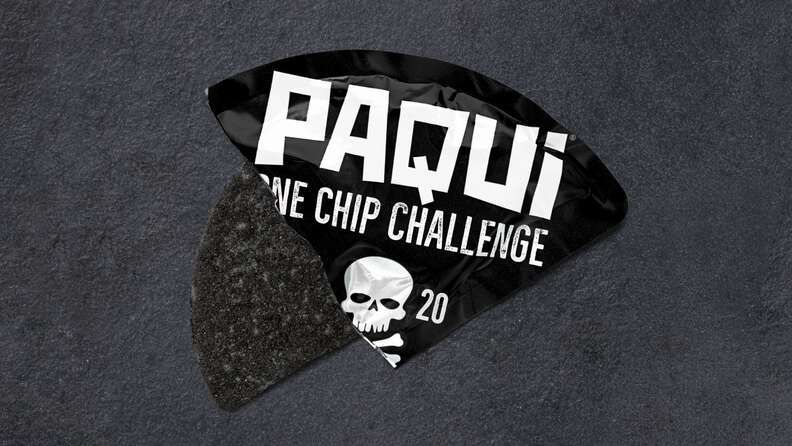 "The #OneChipChallenge is back with a vengeance and ready to deliver a knockout with the addition of Sichuan Peppercorn, known for producing numbing and tingling sensations," Paqui Brand Manager Caitlin Moralic said in a press release. "Because last year's chips sold out in record time, we are especially excited to make it even easier for spice fanatics to try the new recipe by offering the #OneChipChallenge both online as well as in popular retail stores -- giving fans the chance for instant gratification."
This release marks the first time in years that the Paqui #OneChipChallenge will be available at retailers nationwide, including 7-Eleven and Kroger. You can also get it at Paqui.com, starting September 22.
In the meantime, you can stock up on Paqui's other equally delicious flavors like Zesty Salsa Verde, Fiery Chile Limon, and Haunted Ghost Pepper while you wait to take on the Reaper. Consider it training your taste buds for the challenge.
The #OneChipChallenge isn't for everyone. Seriously, let what happened to this news anchor be a cautionary tale. If you can't handle the heat, stay away. Far away.
Sign up here for our daily Thrillist email and subscribe here for our YouTube channel to get your fix of the best in food/drink/fun.
Caitlyn Hitt is Daria IRL. Don't take our word for it -- find her on Twitter @nyltiaccc.