A Worldwide Fake Food Sting Unearthed Deadly Counterfeits on Everyone's Shelves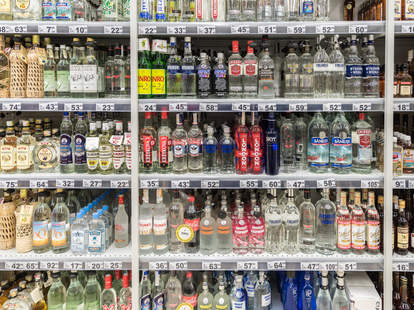 <a href="http://www.shutterstock.com/gallery-1481615p1.html?cr=00&amp;pl=edit-00">Radu Bercan</a> / <a href="http://www.shutterstock.com/editorial?cr=00&amp;pl=edit-00">Shutterstock.com</a>
In a post-industrial society, criminal syndicates have turned to counterfeiting high-end food -- olive oils, wine, and cheese -- to build on their trifecta of drugs, sex, and extortion. No, this is not the dystopian prologue of a Philip K. Dick novel -- it's the reality of life in 2016. And the latest report from Interpol details staggering records of fraudulent food.
"People are at serious risk and in some cases dying because of the greed of criminals whose sole concern is to make money."

In a statement released Wednesday, the International Criminal Police Organization detailed a joint operation with Europol that confiscated 2,500 tons of counterfeit food and drink in December 2014 and January 2015. The police sting raided markets, ports of entry, and industrial estates, and, among the fake goods, investigators nabbed "mozzarella, strawberries, eggs, cooking oil and dried fruit," along with seafood, liquor, beer, sugar, butter, and other foods whose veracity most consumers would never consider questioning.
Among the highlights (or lowlights, depending on your thoughts on food crime), agents confiscated 31 tons of frozen seafood that had been sprayed with a mixture of citric acid, phosphate and hydrogen peroxide, which was then sold as being freshly caught in Italy; 35 tons of fake butter in Egypt; and dietary supplements sent by mail that were seized at Los Angeles International Airport for containing "illicit substances." 
"Fake and sub-standard food and drink pose a real threat to health and safety," said Michael Ellis, head of INTERPOL's Trafficking in Illicit Goods and Counterfeiting unit. "People are at serious risk and in some cases dying because of the greed of criminals whose sole concern is to make money."
Counterfeit booze proved an alarmingly popular way for these syndicates to bilk unsuspecting consumers, too. Almost 73,000 gallons (275,000 liters) of drinks were confiscated worldwide, of which counterfeit alcohol was the most popular. In the UK, police raided a plant with 20,000 empty bottles, set to be filled with fake, brand-name vodka, along with hundreds of empty five-liter antifreeze bottles used to make the swill liquor and "a reverse osmosis unit used to remove the chemical's color and smell." TL;DR; think twice about drinking brand-name vodka in the UK. Stick to the room-temperature beer.
Liquor stings also turned up 5,300 gallons (20,000 liters) of fake hooch and a mafia group producing fake whisky in Thailand; more fake whiskey in Uganda; and a shop selling locally brewed beer in re-used, genuine bottles to dupe customers into thinking they were drinking name-brand brews.
Obviously, a lot of these places seem out of sight, out of mind -- but it was only in February that reports surfaced of a major American producer of Parmesan cheese got pinched by the FDA for selling adulterated cheese product. That's obviously an entirely different level of duping consumers, but it goes to show: the fake food epidemic touches people across the globe. And for the Italian mafia alone, it amounts to a $16-billion-a-year business.
Operation Opson IV, (which couldn't sound more European in origin), not only resulted in arrests and confiscations, but also furthered Interpol's efforts to "disrupt the organized crime networks behind the trafficking in fake goods" and to educate consumers worldwide as part of its Turn Back Crime global awareness campaign that aims to "assist the public in protecting themselves from potentially life-threatening products such as fake or sub-standard food and drink."
This doesn't mean you need to live in fear that everything you buy at the grocer and liquor store might kill you. But it does mean nobody can say with 100% certainty that everything you buy is safe.
That's enough to make you want to drink fake, brand-name vodka and call it a day.
Sign up here for our daily Thrillist email, and get your fix of the best in food/drink/fun.
Ryan Craggs is Thrillist's Senior News Editor. He thinks the real crime is . Follow him @ryanrcraggs.