If You Had a Computer With a DVD Drive, You Might Be Owed Money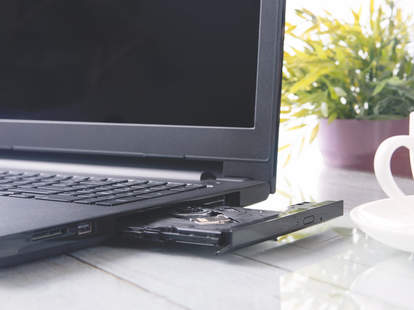 In a world of disappearing USB ports, headphone jacks, and CD drives, it might be tough to remember a simpler time of DVD drives, flip phones, and PT Cruisers. But if you can remember the world from 2003-08, you may be owed some money.
CNET reports that you can submit a claim if you owned a computer or external DVD drive from certain companies purchased between April 1, 2003 and December 31, 2008. That's because Sony, NEC, Panasonic, and Hitachi-LG settled a class-action lawsuit in December. The lawsuit alleges that the companies colluded to artificially inflate or maintain prices of optical drives sold to computer companies and retailers. 
There's a lot to be sorted still, but you can submit a claim online or via mail until July 1, 2017 and receive up to $10 per drive you owned that was from one of the above companies. However, the claim form doesn't ask for much information, like the model of the computer or whether you have any proof that you owned a computer at all. 
If you ultimately need proof to submit your claim, it could be a problem for basically anyone but gonzo hoarders who save 14-year-old receipts for computers that are probably long gone. Once your claim is submitted you get a confirmation that says they will "send you additional instructions via email shortly after the claims deadline." That email will include "a variety of electronic payment formats including PayPal, Google Wallet, Amazon Balance, and others in order to receive an instant payment."
But before that becomes an issue, you should note you need to have been a resident of Arizona, California, District of Columbia, Florida, Hawaii, Kansas, Maine, Massachusetts, Michigan, Minnesota, Missouri, Montana, Nebraska, Nevada, New Hampshire, New Mexico, New York, North Carolina, Oregon, Tennessee, Utah, Vermont, West Virginia, or Wisconsin to be eligible. For some states that are excluded, it's because they may have "a state law that differs materially from the federal antitrust laws."
Despite the bevy of asterisks, you might wind up saving $10 on that computer you don't have anymore. A discount that comes a decade late is still a discount, and though it might not be much, it ought to get you, like, one banana. 
Sign up here for our daily Thrillist email, and get your fix of the best in food/drink/fun.
Dustin Nelson is a News Writer with Thrillist. He holds a Guinness World Record but has never met the fingernail lady. He's written for Sports Illustrated, Rolling Stone, Men's Journal, The Rumpus, and other digital wonderlands. Follow him @dlukenelson.