So we have literally no idea what's going on in this video. There's a VR headset involved. There's much tossing and turning among fancy sheets. There are several gold-plated cars and gold-painted women. No one is remotely fully clothed. Three minutes of this madness leaves you with more questions than answers: Is it a Fyre Festival meta joke? Is it Lady Gaga? Where is Kanye West? Did the person who created it watch lots of Goldfinger reruns growing up? Are we literally in hell?
To be fair, I'm not sure I can answer any of those questions with certainty. What we know is that the folks responsible for this "red band trailer" are trying to hock a $100 million Beverly Hills mansion. So yes, between the bacchanalian shots of half-naked ladies decked out in jewelry, masturbation with a VR headset, and the obligatory champagne bottle-spray, you may notice that this video also includes a few images of an insanely well-appointed space now up for sale if you email Drew Fenton, its main point of contact, at info@drewfenton.com.
Call me crazy, but it all seems like a bit much? Perhaps it's genuinely difficult to sell a house that looks like Patrick Bateman would use without reminding potential buyers of the parts of American Psycho that got dudes excited when they were 12? In any case, the house look like this. It's a nice house.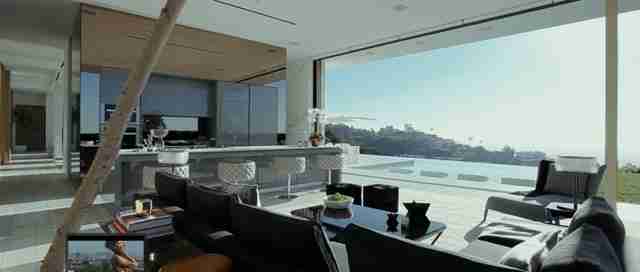 Here's what Fenton's Vimeo page says about the property:
OPUS
Beverly Hills' most expensive property.
Interior features of this state of the art dream home include:
Roberto Cavalli flooring
15-seat curved screen theater with JBL Synthesis Audio
2 massive bars, one of which has "Winestation" that preserves and dispenses glasses with the exact amount and temperature
Gourmet Show Kitchen w/ iPad controlled Top Brewer coffee machine
State of the Art "Savant" Home Automation and Security
Privacy and protection ensured through a private entrance
Longhi doors in suede and embossed leather
Specially commissioned golden sculpture adorning the large motor court
Separate Catering/Event Kitchen
Sign up here for our daily Thrillist email, and get your fix of the best in food/drink/fun.