Panera Bread Now Delivers Nationwide Just In Time For Cozy Fall Soup Season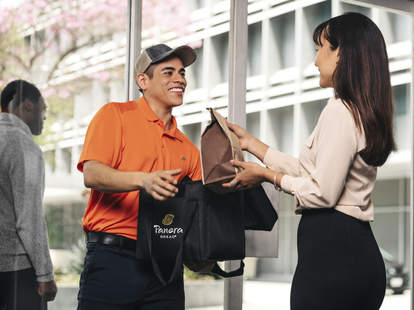 I know what you're thinking: what if Panera, so overwhelmed with online orders, accidentally gives me an apple or chips instead of a crusty baguette -- and when the delivery person arrives at my door, it's too late? Seems like a tough scenario. Despite the potential repercussions of having to gnaw on an apple as opposed to fresh baked bread, Panera is now delivering nationwide in a partnership with DoorDash, GrubHub, and UberEats. 
The news arrived on August 27, the same day their nationwide delivery actually began. From now on, you can order a meal at any time of day. Additionally, beginning September 9, all of the cozy fall menu items will return and can be delivered right to your nook by the fireplace (or to your basic, undersized apartment with a window facing a brick wall). The fall menu items include the highly anticipated Cinnamon Spice Cold Brew, Cinnamon Spice Latte, Apple Pie Thumbprint Cookie, and Cinnamon Apple Scone.
The orders will be delivered by Panera's drivers, and MyPanera loyalty members will still be able to earn visit credits when they order through third party delivery services.
Yesterday, Panera posted a video on Facebook showing Lil Nas X delivering a panini to a fan, with the caption: "When you order a panini for delivery and Lil Nas X shows up at your door."
"This is the best moment of my life," the fan said as they cheersed with their paninis. I'm sure it was unrelated to one of her favorite artists arriving at her door, and had everything to do with the expert crunch of fresh bread toasted to perfection and hand delivered.
Sign up here for our daily Thrillist email and subscribe here for our YouTube channel to get your fix of the best in food/drink/fun.