Oreo Just Unleashed Its First-Ever Halloween Candy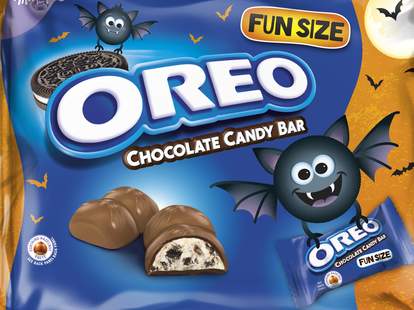 The classic Oreo is probably the most perfect cookie imaginable. It's monochrome, so it never goes out of style, and the way it can be reassembled allows you to express yourself while you're eating. But Oreo insists on experimenting (hello, wasabi Oreo). Five new flavors are coming out before the end of the year, and now -- for the first time ever -- Oreo is putting out a Halloween candy.
This is basically the candy bar that launched last year cut down to trick-or-treating size. As for how they taste, expect the same as the candy bar. If you haven't had one yet, you probably should because they're delicious -- but steel yourself for an incredibly sweet experience. If you don't have a sweet tooth, steer clear. 
The candies come in three different sizes: individually wrapped fun-size bars; an orange Halloween-themed bag of fun-sized bars; and the plain blue bag without the festive Halloween trappings. To be honest, though, it'd be sort of insane to buy just one of these individually wrapped, but being crazy is in the spirit of the holiday, so follow your heart.
There's no word yet on whether Oreo's wasabi flavor will make it to the fun-size candy-bar form, but who knows? 
Sign up here for our daily Thrillist email and subscribe here for our YouTube channel to get your fix of the best in food/drink/fun.