Oreo's New Frosted Strawberry Donut Cookies Have 2 Layers of Creme Filling
Strawberry with sprinkles AND frosted donut-flavored.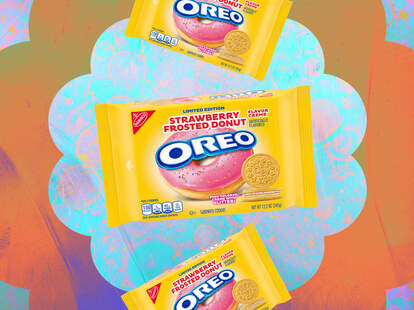 Double Stuf Oreos are, while still tasty, old hat at this point. The cookie company—known best for its endless stream of innovative flavors—has not only increased the amount of creme sandwiched between its glorious chocolate cookies, but is layering different flavors in them now, too.
We saw it just last month with the debut of Brookie-O Oreos, and now, we've got yet another to add to our shopping list: a Strawberry Frosted Donut flavor that features layers of frosted donut creme and strawberry creme (with rainbow sprinkles).
Unfortunately, these Oreos aren't set to make an appearance nationwide until March. That's not to say, however, that the cookie maker doesn't have plenty of other options to tide us over until the official launch.
In fact, in November, Oreo finally unveiled a gluten-free version of its classic cookies—in both regular and Double Stuf. And let me tell you firsthand, this GF variant taste exactly like the OG.
"At Oreo, we take pride in regularly adding new choices and varieties based on what we're hearing from our fans," a rep for the company told Thrillist via email. "Oreo is always looking to welcome more people to experience the playfulness of Oreo cookies. We have been planning the launch of our Gluten-Free cookies for some time and are excited to give more fans the opportunity to experience the playfulness of Oreo cookies beginning in January 2021."
Sign up here for our daily Thrillist email and subscribe here for our YouTube channel to get your fix of the best in food/drink/fun.
Megan Schaltegger is a staff writer at Thrillist.