Oreo Candy Canes are Coming and Suddenly It's Christmas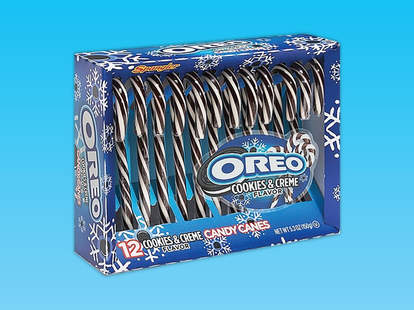 Maggie Rossetti/Thrillist
Candy canes provide that fleeting bit of joy you might need to brave the holiday season and the endless shopping and family gatherings it brings. And even though it's only June, it already looks like Oreo has you covered six months in advance, as the cookie purveyor is primed to make the minty treats this December.
Junk Food Instagram account Candy Hunting got a sneak preview of the packaging, which will ultimately contain Spangler candy canes flavored with Oreo Cookies & Cream. From the looks of the mock-up, they look like zebras of the Christmas snacking world.
For those of you unfamiliar with all of the novelty Oreos in recent years, it's worth recounting some of the most treasured: Parent company Nabisco has drawn from a plethora of other candies in the past, including, Marshmallow Peeps and Swedish Fish, not to mention more bizarre variations like Firework, Waffles & Syrup, and Mississippi Mud Pie, to name just a sugary few. Nabisco even put $500k on the line earlier this month just to let fans try to create its newest flavor, and the contest isn't over yet. Ironically, candy cane-flavored Oreos have appeared during the holidays in recent years.
Wether or not Oreo candy canes will capture the same viral success as some past creations -- like  the Oreo German chocolate candy bar that debuted late last year, for instance -- remains to be seen. But at least we've already got our junk food calendar planned out for the holidays. 
Sign up here for our daily Thrillist email and subscribe here for our YouTube channel to get your fix of the best in food/drink/fun.
 
Sam Blum is a News Staff Writer for Thrillist. He's also a martial arts and music nerd who appreciates a fine sandwich and cute dogs. Find his clips in The Guardian, Rolling Stone, The A.V. Club and Esquire. He's on Twitter @Blumnessmonster.