While Oreo is still taking flavor idea submissions for its $500,000 #MyOreoCreation contest, it looks like that isn't stopping the classic cookie maker from debuting yet another all-new, limited-edition flavor this summer. This time, the company has teamed up with Dunkin' Donuts to unleash a coffee drink-inspired flavor that we all should have seen coming: Dunkin' Donuts Mocha. 
Oreo said packages of the new cookies started hitting store shelves nationwide on Monday. They feature a chocolatey, mocha-flavored creme filling that's sandwiched between Oreo's standard chocolate cookies. And, most importantly, they're designed to taste just like Dunkin' Donuts coffee. Just don't expect your glass of milk to transform into an iced mocha after dunking a few of 'em. 
Recommended Video
This Is NYC's First All Japanese Food Hall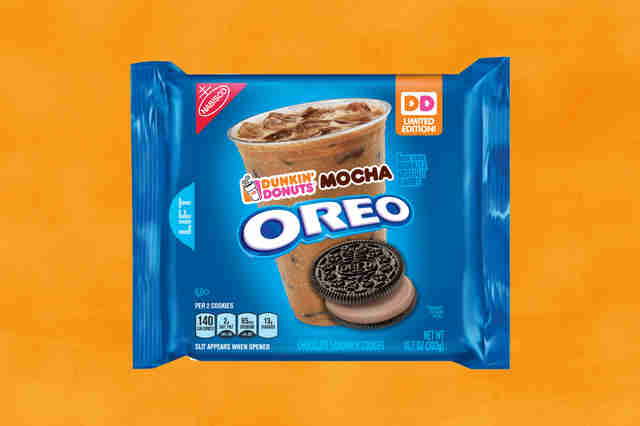 Along with launching the new Dunkin' Donuts Mocha flavor, Oreo is also busy surprising people across the country with real-life prototype packages of their #MyOreoCreation contest submissions, including flavors like Avocado, Bacon, Unicorn, Cherry Cola, Popcorn, and Pineapple Upside-Down Cake. You have until July 14 to send in your own flavor idea, and with any luck, the world will be spared from eating avocado-flavored Oreos when your decidedly better flavor (literally anything but avocado) wins. 
Sign up here for our daily Thrillist email and subscribe here for our YouTube channel to get your fix of the best in food/drink/fun.