Oreo Finally Revealed Its New Mystery Flavor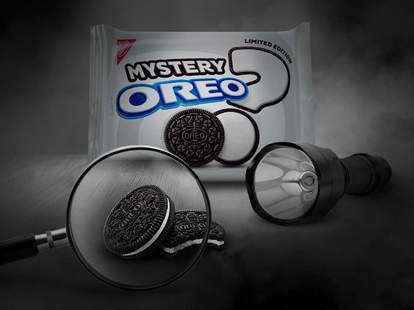 Everyone loves a mystery and the pressing questions that come with it. Who dunnit? Where did they find the missing person? And most importantly: What was that mysterious Oreo flavor that was released back in September and was vaguely cinnamon-y and spicy?
Well folks, wonder no more: Oreo has officially revealed the flavor that left us scratching our heads and reminiscing about the Cinnamon Teddy Grahams of our childhood. The mystery flavor is, in fact, Churro. 
In case you didn't know, whoever correctly guessed the mystery flavor will be awarded $50,000 -- and the company has already contacted this year's winner, whose identity remains anonymous. Back in 2017, the mystery flavor was Fruity Pebbles.
We weren't right, but our guess of Cinnamon Teddy Grahams isn't too far off from churro. They're buttery and cinnamon-y, too, and also under the same parent company as Oreo. Alas, we didn't bag 50 grand, but we can find comfort in knowing that Nabisco will be back with even more new Oreo flavors in 2020.
Sign up here for our daily Thrillist email and subscribe here for our YouTube channel to get your fix of the best in food/drink/fun.
Kat Thompson is a staff writer at Thrillist. Follow her on Twitter @katthompsonn.