Holy Crap, Oreo O's Are Making a Big Comeback
Post
Post
Revivals of your favorite '90s obsessions seem to come several times a week these days, from Animaniacs to Clearly Canadian to Twin Peaks, and today we have one more to add to the list, if your taste buds are ready for it: the classic Oreo cereal -- Oreo O's -- is returning to the shelves.
There's no way you don't remember Oreo O's, which launched in 1998 and ran strong through 2007. They were shaped like tiny donuts and packed full of Oreo cookie bits and coated with the Oreo creme filling. They were good straight out of the box and irresistible when you added milk. Unlike other, lesser cereals, getting them just a little too soggy actually yielded a pleasant, earthy texture that was still fun to chew through, thanks to their cookie roots. Their performance as a childhood treat utterly embarrassed their chocolate chip counterpart, General Mills' Cookie Crisp, because there was simply no comparison. Oreo O's couldn't be matched, so much so that years later, the Internet campaigned for its revival.
Post Consumer Brands, the brand's owner, has heeded their pleas. The company confirmed to Thrillist that they intend for the new Oreo O's revival to hew as closely to the original recipe as possible and "provide nearly the same experience." (The company has also removed the marshmallows that were a trademark of the Oreo O's Extreme Crème Taste edition that spun off of the original.)
Starting June 2017, Post will be selling boxes and boxes and boxes of Oreo O's indefinitely. According to the company, "Oreo O's are back and here to stay!" The company has also made it easy to find them. Its store locator allows you to search specifically for stores that peddle the Oreo O's cereal in your area.
In other words, you're out of excuses. Go in peace to love and crunch through cookie cereals.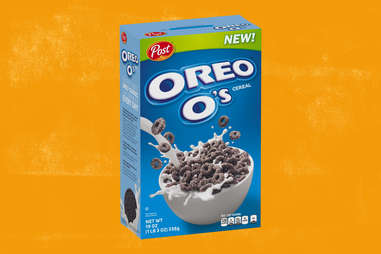 Sign up here for our daily Thrillist email and subscribe here for our YouTube channel to get your fix of the best in food/drink/fun.