Oreo's Giant Most Stuf Cookies Are Back & You Can Win $100,000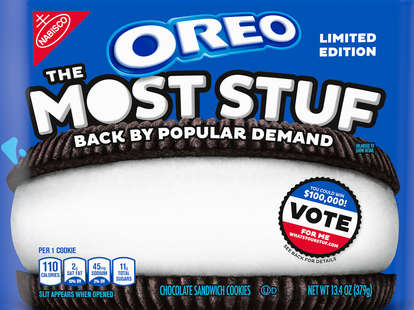 Courtesy of Oreo
Courtesy of Oreo
Everyone has a preference -- if not a strong opinion -- when it comes to the ideal amount of creme in an Oreo. But whether you're a Double Stuf devotee or sold on the Thins, Oreo wants to know about it. In honor of the cookie maker's monstrous The Most Stuf return, the company is tasking fans to vote on their favorites for a chance to win $100,000.
There's a lot to unpack here, so pour yourself a glass of milk. Let's start with the first bit of news: yes, Most Stuf Oreos are making a triumphant return. The company is kicking off the new year with a limited-edition launch hitting stores on January 20. And ICYMI, these suckers are packed with four times the creme filling, or "stuf."
Now to the part where you can win money. Here's how the sweepstakes works: Head over to whatsyourstuf.com and select your cookie of choice. The options include The Most Stuf, Mega Stuf, Double Stuf, Original Stuf, and Thins. On principle, I simply can't trust Original Stuf or Thins loyalists, but vote as you must. And from there, you'll fill out a few personal deets (name, state, the usual). You have until March 15 to enter, then Oreo will start passing out the prizes.
And while $100,000 and The Most Stuf Oreo's return is important, it's not the only cookie-related announcement you should care about. Earlier this month, the company revealed a brand-new Tiramisu flavor that's filled with not one, but two kinds of creme. And honestly, I'm not sure which is better.
Sign up here for our daily Thrillist email and subscribe here for our YouTube channel to get your fix of the best in food/drink/fun.
Megan Schaltegger is a staff writer at Thrillist. Follow her @MegSchaltegger.