Oreo's Latest Flavor Has 2 Kinds of Creme Inside Each Cookie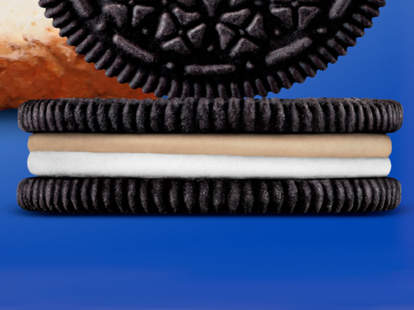 I've always felt strongly that classics are classic for a reason and that, aside from a few exceptions, we should leave them as such. But Oreo's latest product, a Tiramisu-flavored cookie, is a special case. And while I haven't gotten my hands (or taste buds) on them yet, they may just outshine the original; namely, because they're filled with not one, but two creme flavors.
On Thursday, Oreo confirmed news of the cookies' 2020 debut. "We're excited to share that Tiramisu flavored OREO cookies are coming April 2020," a rep for the cookie maker told Thrillist. "The cookies feature Tiramisu-flavored creme and will be available for a limited time only, while supplies last, wherever OREO cookies are sold."
If you haven't experienced the OG dessert IRL, here's what to expect: it's an espresso, chocolate, and mascarpone cheese Italian dessert that tastes a lot like a coffee-liqueur. And though Tiramisu Oreo Thins already made an appearance overseas, these suckers have that aforementioned double filling.
Courtesy of Oreo
While we haven't heard any new Oreo flavor rumors as of late, we can't help but wonder what's in the works. Sure, we've got dark chocolate fudge, Chocolate Marshmallow, and Caramel Coconut to look forward to, but if history's any indication, there must be more down the pipeline. We got over 14 brand-new flavors in 2019. I'm not sure they'll beat out the Tiramisu, but hey, let 'em try.
h/t Travel & Leisure
Sign up here for our daily Thrillist email and subscribe here for our YouTube channel to get your fix of the best in food/drink/fun.
Megan Schaltegger is a staff writer at Thrillist. Follow her @MegSchaltegger.