Oval-Shaped Pink Easter Egg Oreos are Returning to Grocery Stores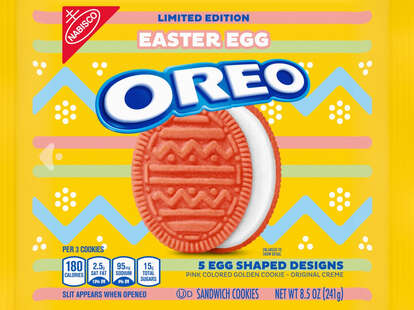 Edited - Courtesy of Nabisco
In honor of Easter, which is still months away, Oreo confirmed on Friday that it's bringing back its pink, egg-shaped cookies. And while you might think it's the first time the classic sandwich cookie maker has changed the shape of its iconic cookie, it turns out these same egg-shaped Oreos first hit store shelves last year. It's a fitting resurrection.
The cheery pink cookies feature the same flavor as golden Oreos, despite their strawberry color. Inside, you'll find Oreo's signature white creme, according to a spokesperson. Meanwhile, you'll find five different egg pattern designs on the outside of the cookie.
The pink, oblong Oreos are slated to arrive in stores next month, so one could easily argue that the pink tint could double as a Valentine's Day Oreo. At least that's what I'll tell myself while I'm cramming cookies into my mouth in mid-February.
Sign up here for our daily Thrillist email and subscribe here for our YouTube channel to get your fix of the best in food/drink/fun.
Kat Thompson is a staff writer at Thrillist. Follow her on Twitter @katthompsonn.