These New Oreos Come Filled with Pop Rock-Like Candies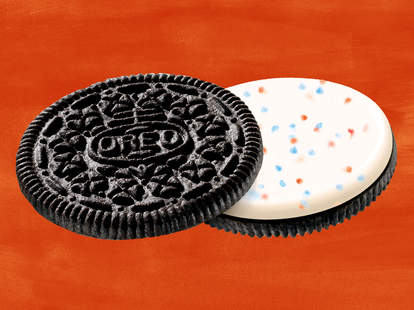 As if the recent Marshmallow Peeps and Swedish Fish Oreo flavors weren't crazy enough, a batch of leaks and rumors earlier this year suggested the classic sandwich cookie company has several equally bizarre new flavors up its sleeves. Now, it looks like at least one of the new cookie rumors was true: Oreos filled with Pop Rock-like candies are coming.
The new flavor is called Firework and packages of the apparently volatile cookies hit stores nationwide on Monday, May 8, according to a spokesperson. Firework, of course, isn't an actual flavor, but the company said the cookies feature its standard chocolate cookie wafers and a creme filling loaded with popping candy. Think regular Oreos, but with Pop Rocks inside. Your milk will never be the same.
Courtesy of Oreo
The Oreo flavors that come after Firework, however, may be even crazier. That's because Oreo has also launched its first-ever #MyOreoCreation contest, which calls on fans to submit their own Oreo cookie or chocolate bar flavor ideas for a chance to have them hit store shelves, VIP access to the company's secret prototypes, and $500,000. In other words, it's your chance to finally make orange soda or sriracha-flavored Oreos happen. Or something like that.
Sign up here for our daily Thrillist email, and get your fix of the best in food/drink/fun.
Tony Merevick is Cities News Editor at Thrillist and would really love it if they made soft-baked chewy Oreos some day. Send news tips to news@thrillist.com and follow him on Twitter @tonymerevick.