Airport Honors Longtime Service Dog With the Perfect Retirement Party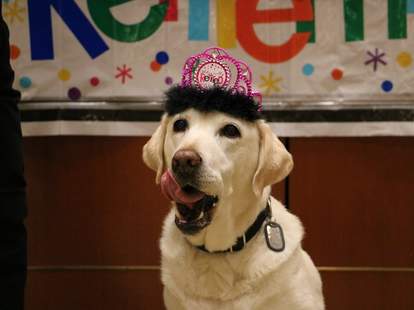 Courtesy of Orlando International Airport
If you have a dog, there are more than a few milestones to celebrate with your furry friend; namely, the day they came into your life, the day they successfully fetched something for the first time, and the day they finally stopped crapping on your carpet, among others. A service dog at Orlando International Airport, however, recently achieved an even bigger milestone -- retirement -- and officials threw her the perfect party.
After serving as an employee at the airport for nearly five years, a retiring service dog named Gema received a spectacular sendoff late last week, complete with a giant "Happy Retirement!" banner, a sparkling retirement tiara, the company of a few of her fellow K-9 "besties," and some well-earned treats. Gema's handler, Eddie, and a few other humans from the airport's bag-sniffing squad also attended the party and officials live-tweeted photos of the festivities. In other words, the celebration was certifiably better than any retirement party you'll ever get -- if you're lucky enough to get one at all.
"We're celebrating the retirement of one of our most loyal and dedicated employees [and] we're sending her off in style," the airport announced in the series of tweets. 
The best part of Gema's retirement, though, is that she gets to enjoy all of her new time off in Eddie's care, according to the airport. "She's my sister, my protection," he said in one of the airport's tweets. Couldn't have worked out better for both of them. Happy retirement, Gema.
Here a few more photos from the party, for good measure.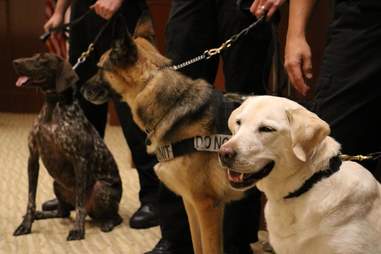 Courtesy of Orlando International Airport
Courtesy of Orlando International Airport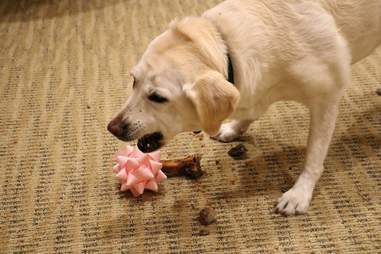 Courtesy of Orlando International Airport
Sign up here for our daily Thrillist email and subscribe here for our YouTube channel to get your fix of the best in food/drink/fun.
 
Tony Merevick is Senior News Editor at Thrillist and hopes all service dogs get this kind of treatment. Send news tips to news@thrillist.com and follow him on Twitter @tonymerevick.