Oscar Mayer Is Unleashing Hot Dog Ice Cream Made With Actual Hot Dog Bits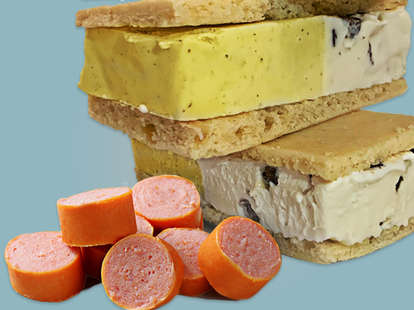 Edited - Courtesy of Oscar Mayer
No one, literally not a single soul:
Oscar Mayer: HERE'S HOT DOG-INFUSED ICE CREAM.
Oscar Mayer is partnering with New York City-based Il Laboratorio Del Gelato to translate the savory, summertime flavor of hot dogs into ice cream form. To truly capture the hot dog dessert experience, the hot dog maker is launching what it's dubbed the Ice Dog Sandwich (get it -- ice dog?). The recipe calls for one part candied hot dog swirled ice cream, one part spicy mustard flavored ice cream (not the new mustard ice cream from French's), and two parts of cookies that will serve as the ice cream sandwich's "buns."
The announcement of the, erm, interesting flavored ice cream sandwich coincides with National Ice Cream Sandwich Day, aka August 2. Is that a good excuse for creating this unholy food combination? Probably not!
As if the hot dog-infused ice cream sandwich wasn't extra enough, the company's iconic Wienermobile will be swapping out its hot dog identity and taking on the role of an ice cream truck during the week of August 12. The Wienermobile will be driving throughout Manhattan, passing out Ice Dog Sandwiches for any interested New Yorkers who dare take on a hot dog-flavored ice cream.
While the ice cream sounds unappealing, we can't help but be curious. Candied bacon is good -- who's to say candied hot dog bits will be worse?
Sign up here for our daily Thrillist email and subscribe here for our YouTube channel to get your fix of the best in food/drink/fun.
Kat Thompson is a staff writer at Thrillist. Follow her on Twitter @katthompsonn.