We Tasted Oscar Mayer's Unholy Hot Dog & Mustard Ice Cream Sandwich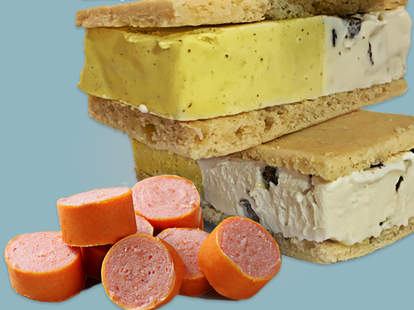 Edited - Courtesy of Oscar Mayer
You may have seen it while scrolling your Facebook news feed, or seen the Oscar Mayer Wienermobile cruising down the streets of Manhattan, or been bombarded with tweets paired with blurry photos of pale yellow rectangles. Whatever the circumstance, there's one thing you know for sure: You'll never forget where you were the first time you heard about Oscar Mayer's hot dog-infused ice cream sandwich, dubbed the Ice Dog (like, you know, the opposite of a hot dog).
Who eats just mustard @Frenchs? Condiments were made for Oscar Mayer hot dogs. Say hello to the Oscar Mayer Ice Dog Sandwich - 🌭 flavored ice cream, made with our better hot dogs, sandwiched with spicy mustard 🍦. Do you want to try this? Coming in August🔥 #OscarMayerIceCream

— Oscar Mayer (@oscarmayer) August 1, 2019
On Wednesday afternoon, representatives of Oscar Mayer visited Thrillist's HQ and gave us a taste of the unholy ice cream sandwich, made with "bun" flavored cookies from One Girl Cookies and one part dijon mustard-flavored ice cream and one part hot dog-infused sweet cream ice cream (created by New York City's legendary il laboratorio del gelato). The results? A bizarre -- but not entirely offensive -- dessert.
How? How did this unconscionable ice cream sandwich not taste offensive?
Well, to be honest, I try to be openminded when it comes to food -- you know, the whole don't yuck my yum ideology. And to be fair, the combination as a whole isn't entirely sinister.
We'll start with the good: The sweet cream ice cream is mellow -- not too sugary and not overly filled with bits of candied hot dogs. In fact, I kind of wish there were more hot dog bits; they provided a surprisingly welcomed saltiness -- akin to candied bacon -- and also added a unique texture. It's like fair food; it seems ridiculous, but that doesn't mean it's inherently bad.
The "buns" -- or cookies -- were fine. They weren't particularly flavorful, but I guess they stuck closely to the script, as hot dog buns aren't necessarily beacons of seasoning. I almost wish they went a different direction and used funfetti cookies or snickerdoodle, something that would have sweetened the deal and kept me wanting more.
The biggest let down was the mustard ice cream which, let me tell you, is just a punch of frozen dijon to the face. It's acidic and spicy and completely permeates every corner of your mouth; this is not a gently infused, light flavor like French's recent mustard ice cream. If you like mustard and for some reason would want an ice cream version of it, then this is for you. Otherwise, the mustard flavor was flat out aggressive, corrupting all the other subtle nuances of the Ice Dog.
Would I want to eat this Ice Dog again? Probably not, but I'm thankful for the experience.
If you're curious about trying the Ice Dog sandwich, you can enter to win the Oscar Mayer Ice Cream Sweepstakes and get a box of these frozen treats sent to you. Or you can just, you know, not. 
Sign up here for our daily Thrillist email and subscribe here for our YouTube channel to get your fix of the best in food/drink/fun.
Kat Thompson is a staff writer at Thrillist. Follow her on Twitter @katthompsonn.