Oscar Mayer Is Selling a Shirt With a Photo of the Wienermobile Getting Pulled Over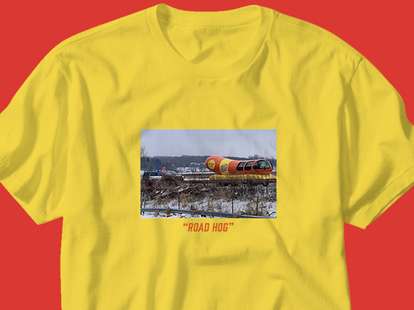 Oscar Mayer
Oscar Mayer
What's up with brands, man? In just the past few months, Planters killed Mr. Peanut and scheduled his funeral for the Super Bowl, Popeyes started selling sexier clothing than I've ever seen at a bougie sportswear store, and Burger King offered pseudo-dethroned Prince Harry a part-time job. And now, in perhaps the boldest corporate stunt to date, Oscar Mayer is reclaiming a viral imagine of its iconic Wienermobile getting pulled over by the cops, by selling the image on a limited-edition T-shirt.
Here's a quick refresher: This week one Oscar Mayer Wienermobile driver was caught on camera getting pulled over by the Waukesha County Sheriff's Department in Wisconsin. While the internet LOL'd, we assumed the brand was sending one of those passive-aggressive emails to whoever trained the guy, and trying to forget about it otherwise.
This was not the case. While the picture went viral, Oscar Mayer's marketing team was apparently hustling to create a mall kiosk-quality T-shirt with the image printed above the caption "Road Hog." It's 100% cotton and selling for $29.99.
The company announced the shirt in a statement on Twitter, starting with "On January 26, 2020, we messed up," followed by an action plan for "righting their wrong." The T-shirt.
"We're not proud of it," the company wrote on the shirt's sale page. "But we're proud that the profits of this shirt will directly fund the National Road Safety Foundation to keep the 'Hot Dog Highways' safe for everyone."
We all of us should aspire to be an Oscar Mayer Wiener. Take this as a lesson kids: Next time you're caught for a minor traffic violation, you can right your wrongs by selling the 'rents a selfie of the event, with proceeds going to their favorite charity.
Sign up here for our daily Thrillist email and subscribe here for our YouTube channel to get your fix of the best in food/drink/fun.