Two Steakhouses Are Having a Brutal & Kind of Awkward Social Media Feud
It's a battle royale between chain steakhouses, and you're invited.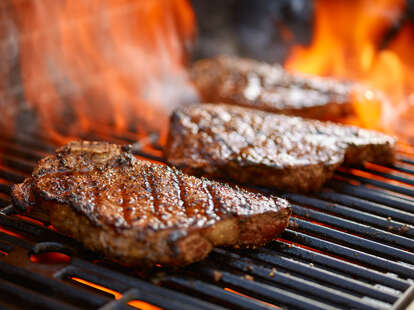 It seems like every Twitter feud between restaurants involves Wendy's. That's mostly because being an ass is Wendy's entire Twitter strategy. Nonetheless, when fast-casual restaurants fight on social media and it doesn't involve Wendy's, it can look awkward like you're eavesdropping on a couple having a nasty breakup in a restaurant.
That's how it feels to look at the feud going down between Texas Roadhouse and Outback Steakhouse, home of the most ridiculous plate of food released this month. The beef started with a tweet featuring a Spongebob meme to take a jab at Outback.
The Roadhouse saw the jab and retweeted it, in a somewhat playful manner.
Then the exchange got salty.
What follows will make you realize the swipes Wendy's takes at rivals like Burger King and McDonald's seem playful. These tweets read more like a couple of teens trying to emotionally wound each other. It's awkward, and not just because Outback doesn't retweet to reply.
It may have been a better strategy to take the Logan's Roadhouse and LongHorn Steakhouse approach and stay out of this one.
Sign up here for our daily Thrillist email and subscribe here for our YouTube channel to get your fix of the best in food/drink/fun.