Death Is Inevitable, But At Least You Can Get a Custom Hipster Headstone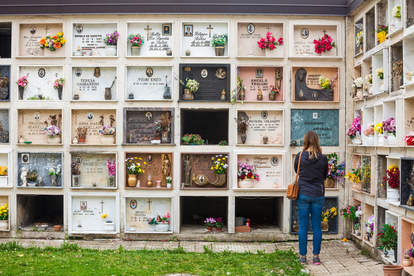 Anyone who claims they've never fantasized about their own funeral is lying. It's not a morbid fictionalization, it just is. We don't particularly want to die, we just enjoy envisioning all the posthumous glamour -- the exuberant eulogies, the mourning ex-lovers, the sentimental speeches. We might be celebrities after death! Great writers! Artists! Living fame is tacky. 
Over My Dead Body is the new design company capitalizing on that very fantasy. An offshoot of the artist's collective, Smorgasbord, OMBD works with folks while they're still alive to concept and design their very own customized tombstones. So, no, odds are you can't plan your own funeral. You can, however, manage the creative direction on your grave site. 
Once you contact the company, the team will work with you to sketch out your vision, before either designing your headstone themselves, or liaising between you and another artist who can better carry out your mock-up. Once the memorial is completed, you can take a look, but the studio will continue to store the thing until you croak, at which point they'll deliver it to your next of kin, who is hopefully still alive.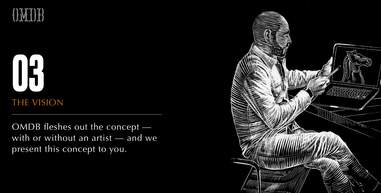 Courtesy of OMDB
Not only does this business venture reinforce the mission statement maintained by the Death Positive Movement, which suggests that planning for death should not be taken as dark or forlorn, but it also acts as a clever re-imagining of the old, classic mausoleum: a material testament to a life well-lived.
"This is for people who are alive and kicking, who are living large, and they've got the foresight to sit down and plan an edifice or memorial, whether it's physical or digital, for a time when they leave," says Dylan Griffith, Smorgasbord's creative director. "I think it will appeal to the famous, or people who have the funds to bring something special to fruition."
Cost-wise, OMDB's bespoke memorials will certainly be more burdensome than a traditional tombstone -- though these aren't cheap, either. Your run of the mill stone will set you back $1,000 at minimum so prepare to multiply that by 10. But remember, there are no parameters here. Griffith explains that you could, in theory, commission Damien Hirst to erect your mausoleum. This would not be cheap.
"When I was growing up in Colorado my folks owned a funeral home and I used to help out from a young age. My father always approached his work in a positive and jovial manner, and I guess that rubbed off," Morgan Tucker, the company's client liaison told Thrillist. "When I look back I have fond memories of driving the hearse and to this day when I see one driving by I perk up. I wish other people had more positive associations with death. And that's exactly what we're here to do – to shift people's perceptions."
We can't make any claims about how successful these folks will be -- the bespoke hipster headstone is definitely a new addition to the market. But death is certainly cooler than ever, and the living need not apologize for that.
Sign up here for our daily Thrillist email and subscribe here for our YouTube channel to get your fix of the best in food/drink/fun.