You Can Get Paid $1,000 to Watch Basketball During March Madness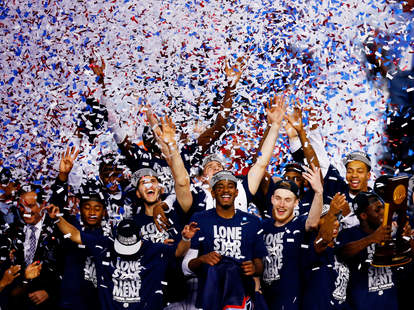 Tom Pennington/Getty Images
Pretty much everyone does a little TV binging at some point. That's probably why those temporary gigs where you get paid to, say, watch The Office sound so appealing. 
For instance, you could earn $1,000 to watch March Madness. CableTV.com, which has previously hired people for gigs like doing a Marvel movie marathon, is looking for someone to watch 40 hours of college basketball, making about $25 an hour in the process. If you're selected, you'll be taking notes, posting on social media, and working from home. (Even if your home is a Buffalo Wild Wings during the tournament.)
In addition to actual money, the hired basketball fan is going to get Sling TV with three months of Orange & Blue service (as well as the Cord-Cutters Bundle and Sports Pack), an AirTV Mini, an AirTV 2, an OTA antenna, a dry-erase bracket board, and custom CableTV basketball shirt.
Applications must be received by March 11 at 7pm EST. All it requires is some details about your social media presence, a short blurb on why you're the person for the job, and an optional (but "highly recommended") video about why you're the person to get paid for sitting on your butt eating Flamin' Hot Cheetos. You might not know who is playing yet, but the madness begins in just over a week. 
Sign up here for our daily Thrillist email and subscribe here for our YouTube channel to get your fix of the best in food/drink/fun.