Panda's Honey Sesame Chicken Is Here to Stay & You Can Win a Year's Worth
After seven years, Panda Express finally gave the fans what they wanted.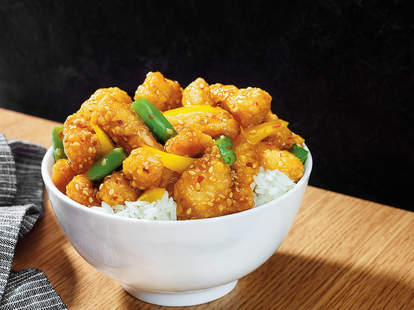 Photo courtesy of Panda Express
Seven. That's how many times Panda Express teased customers with a limited release of the Honey Sesame Chicken Breast. Seven times over seven years, fans held their breath and waited for the unlikely announcement that Panda's fan-favorite dish had finally reached permanent status.
As it turns out, seven really is a lucky number, because this month, the American Chinese fast food chain shared a much-needed bit of good news: Honey Sesame Chicken is here to stay.
If you're unfamiliar, the now-permanent dish yields strips of chicken breast, string beans, and yellow bell peppers, tossed in a sweet honey sesame sauce. And every time it hits the menu, the internet goes wild.
Just found out that @PandaExpress is keeping honey sesame chicken on their menu and I almost shed a tear. Best day ever omg!!!!

— syd (@xsydtulorex) October 13, 2020
No announcement of this magnitude is complete without a celebration. Every day until Sunday, October 25, fans can enter to win a year's supply of Honey Sesame Chicken Breast bowls in the form of a $365 gift card that will cover the cost of about one bowl per week for 52 weeks.
Put another way, that's around 45 pounds of free Panda Express.
On top of the allotted one sweepstakes entry per day, fans can earn entries by referring friends through social media or email. A grand prize winner will be selected on Monday, October 26, and one of the friends who referred the winner will also receive a $365 gift card.
Truly though, everyone wins here, because the days of hopelessly craving sweet honey sesame sauce are over. You did one good thing, 2020.
Sign up here for our daily Thrillist email and subscribe here for our YouTube channel to get your fix of the best in food/drink/fun.