Panda Express Is Finally Bringing Back This Beloved Menu Item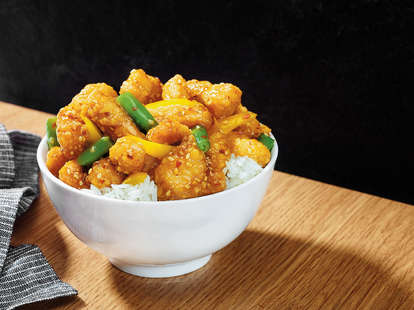 Courtesy of Panda Express
It's a common practice among fast food restaurants to reinvent the menu. This has become even more apparent in 2019 with the addition of Popeyes's chicken sandwich, the demolition of Taco Bell's menu, and the introduction of a new steak option at Chipotle. Chains are constantly vying for your attention, and sometimes all it takes is the reintroduction of a beloved favorite.
That's Panda Express's strategy, anyway. The Chinese-American fast food chain is bringing back a crowd-pleasing favorite: Honey Sesame Chicken. This comes after a series of desperate tweets begging for the return of the saucy entree.
It's no wonder Honey Sesame Chicken has such a devoted following. It combines chicken breast, green beans, and yellow peppers that are then tossed in a sesame-laden honey sauce for a classic sweet and savory mash-up.
While Honey Sesame Chicken is again available at Panda Express locations across the country, it sadly won't stick around for long. You'll have to go soon to get your fix before the fan-favorite is discontinued again.
Sign up here for our daily Thrillist email and subscribe here for our YouTube channel to get your fix of the best in food/drink/fun.
Kat Thompson is a staff writer at Thrillist. Follow her on Twitter @katthompsonn.