Panera Might Give out Free Hot and Iced Coffee All Summer
Vote for free coffee with a MyPanera Coffee subscription.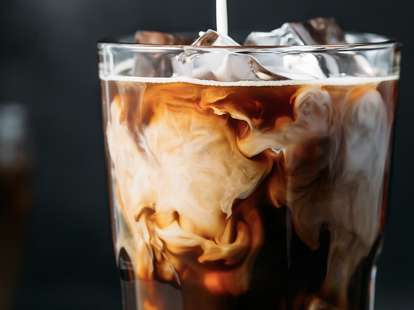 It feels like it's been 100 years since we sent our nurse friend that article about free Starbucks coffee for frontline workers, and another 100 since the folks staying at home needed to walk more than the distance between their living room and kitchen for java.
But now, with lockdown lifts happening nationwide, an unlikely chain wants to help quarantiners regain their momentum. Bread bowl king Panera Bread announced Tuesday that it's planning to offer free coffee to anyone with a MyPanera Coffee subscription, starting on June 22, 2020.
I say "planning to offer" because Panera needs 500,000 votes on a Tweet before the company goes ahead with the deal; the whole giveaway started with a poll from the company on June 16, asking if customers would like free coffee, or if they preferred to pay. It has around 200,000 votes so far, and there are four days left to vote.
To the 11.5% who preferred to pay for coffee so far, please consider my Venmo as well. To the 88.5% who wanted free coffee, you'll be happy to hear that you can score free hot coffee, iced coffee, or hot tea once you sign up for the chain's monthly subscription. It costs around $9 a month, which is an excellent deal if you frequent Panera and a terrible one if you go for the occasional free food deal.
Whether you need the energy to stand against systemic racism, or finally visit your family after four months apart, Panera's got your back. Unless you were part of that 11.5%.
Sign up here for our daily Thrillist email and subscribe here for our YouTube channel to get your fix of the best in food/drink/fun.
Ruby Anderson is a News Writer at Thrillist. Send your tips to randerson@thrillist.com.