Panera Bread Is Working on 10 New Soup Recipes & the First Is Already on Menus
The fast casual café chain just dropped an all-new You Pick Two combo.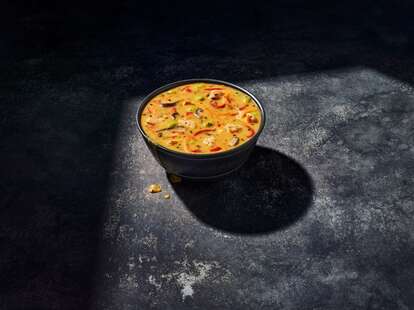 Thai Chicken Soup | Courtesy of Panera
Gorgeous, gorgeous girls love soup. Gorgeous, gorgeous girls love Panera soup even more, and now, you can fill your bread bowl with all-new flavors—whether you get the TikTok reference or not. The fast casual café chain is adding 10 new soups to menus this year, kicking off 2022 with the debut of its Thai Chicken Soup.
On Thursday, Panera announced two new menu items primed for your next You Pick Two combo. In addition to the Thai Chicken Soup, a Citrus Asian Crunch Salad with Chicken is also popping up in cafés this month.
The Thai Chicken Soup, which is set to make its arrival on menus just in time for National Soup Month, features a gently spiced Thai yellow coconut curry broth with lemongrass, ginger, galangal, and Thai lime while the salad boasts fresh romaine, chopped broccoli, green cabbage, carrots, and kale tossed with edamame, pickled red onions, and fresh cilantro in a tangerine soy ginger dressing. It's then topped with warm seared chicken thigh meat, crispy carrots, and a Teriyaki drizzle.
These innovations are just the tip of the iceberg, though. Panera has many more new flavor-packed soups headed down the pipeline, all of which will be joining menus in the next few years. A sweet and spicy Mexican Street Corn Chowder will arrive this summer while Cajun Shrimp & Andouille Sausage, Greek Lemon Chicken and Farro, and Cuban Black Bean & Poblano soups are expected after that.
"Our chefs have been meticulously obsessing over every ingredient in our test kitchens, creating new menu items with a focus on taking familiar flavors and adding a unique Panera twist, turning them into bold, amazing dishes our guests will love," Head Chef and Chief Food Innovation Officer Claes Petersson said in a press release. "From classic Panera favorites to new, enticingly bold flavors, we hope to satisfy any craving and provide more adventurous flavors for our customers."