Panera Just Launched a New Summer Menu & Everything's Under $10
Get ready for chipotle bacon melts and teriyaki chicken sandwiches.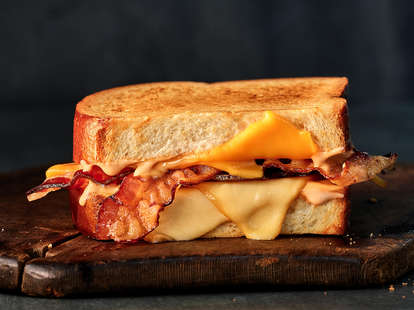 Courtesy of Panera
Courtesy of Panera
Panera is one of the most underrated fast casual restaurant chains in the game and that is the hill I want to die on. The company makes double bread bowls. But as if that weren't enough (it is), the bakery-café is now launching a new summer menu with chipotle bacon melts, teriyaki chicken sandwiches, and a BBQ salad that actually makes me want to eat salad (quite the feat).
On Thursday, July 23, Panera's menu is getting a major upgrade with the addition of five options -- four of which are new and one returning. While the very descriptions themselves are enough to warrant an order, that's not even the kicker. It's this: Every single item is under $10. So what can we expect from these new additions? Can they really sway my dedication to that ever-reliable broccoli and cheddar soup order?
Here's the full menu:
Bacon, scrambled egg & tomato wrap for $4.99: This one's pretty self explanatory in that it's got the bacon, scrambled eggs, and grape tomatoes, but with the addition of emerald greens, Vermont white cheddar, mustard horseradish sauce, salt, and pepper in a whole grain wrap.
Smokehouse BBQ chicken sandwich for $7.99: This toasted sandwich features smoked, pulled chicken (without antibiotics), an apple cider vinegar BBQ sauce, red onions, Vermont white cheddar, and frizzled onions on classic white bread.
Teriyaki chicken sandwich for $9.39: This one features seared chicken thighs tossed in teriyaki sauce, pickled red onions, diced cucumbers, emerald greens, fresh cilantro, and mayo on a toasted artisan ciabatta.
Chipotle bacon melt for $7.99: You can expect bacon, smoked gouda, American cheese, and chipotle mayo on toasted classic white bread.
BBQ chicken salad for $9.59: This returning menu favorite includes chicken (still without antibiotics, yay!) with romaine, black beans, and corn salsa tossed in a BBQ ranch dressing, topped with frizzled onions and more of that apple cider vinegar BBQ sauce.
Panera is also serving up another deal at select locations: Panera Duets, each of which gets you classic menu pairings starting at $5.99. The options include grilled cheese and tomato soup, tuna and ten vegetable soup, greek salad and tomato soup, and chicken caesar and chicken noodle soup.
Sign up here for our daily Thrillist email and subscribe here for our YouTube channel to get your fix of the best in food/drink/fun.
Megan Schaltegger is a staff writer at Thrillist.