Papa John Set Up a Bizarre Website Claiming the Pizza Chain Is Trying to Silence Him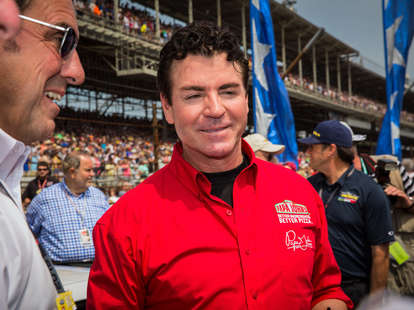 Michael Hickey/Getty Images
John Schnatter has experienced a very public downfall from his once lofty position of Papa John's Founder, CEO and Chairman. Since it was revealed he used a racial slur on a conference call in May, the human pizza mascot had his image erased from all company materials, was evicted from his office, and ousted from the company entirely by a board unwilling to deal with the PR meltdown. A series of sexual harassment claims and an allegedly toxic workplace environment didn't bode well for Papa's tarnished public image, either.
But Schnatter still thinks he's the only man up for the herculean task of pulling the chain back from the abyss, as he recently launched a website -- SavePapaJohns.com -- with the sole purpose of promoting his past exploits as a frequently controversial pizza baron. On the website, Schnatter makes a plea to all Papa John's employees across its 5,000 global locations, striking the tone of a divorced parent talking to his kids:
"The Board will not let me talk to you and that has been very difficult. I can only imagine how difficult this entire situation is on you, and I'm very sorry you all have to go through this. You are the heart and soul of this company -- please know that in every minute of every day you are all in my thoughts and prayers."
He finishes, writing: "We will all get through this together, somehow, some way."
The website also boasts a series of legal documents outlining Schnatter's current suit against his former company, along with a biography section listing a plethora of personal accolades. There's also links to various news articles about the company's implosion, none of which are reports about the chain's slumpingsales and ailing corporate sponsor business. Rather, the site's press section points to articles framing Schnatter as more of a fearless maverick than an embattled entrepreneur scrambling to recover his life's work.
What might have originally appeared to be a fast and controversial blip in the news cycle, John Schnatter's marathon departure from the company appears to be stretching into the extra-innings.
Sign up here for our daily Thrillist email and subscribe here for our YouTube channel to get your fix of the best in food/drink/fun.
 
Sam Blum is a News Staff Writer for Thrillist. He's also a martial arts and music nerd who appreciates a fine sandwich and cute dogs. Find his clips in The Guardian, Rolling Stone, The A.V. Club and Esquire. He's on Twitter @Blumnessmonster.