Papa John's Is Giving Away Free Pizzas Every Day Through December 30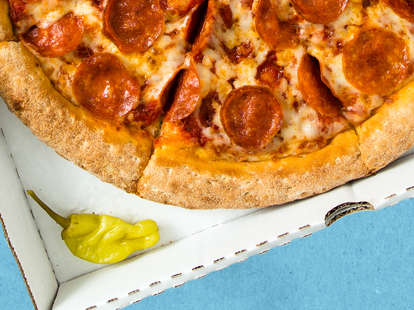 The gentle time of gift-giving is over, and you're now ungracefully transitioning back into that unforunate thing we call real life. That's just around the corner after New Year's, but things aren't all bad. To help with this trying time, Papa John's is giving one last gift: free pizza. It's also really easy to get, if you're a little lucky and extremely online.
Every day until December 30, the newly Papa-less pizza chain will be giving away 10,000 free pies. Make sure you're monitoring the company's Twitter account, as Papa John's will be tweeting out a link, and only the first 10,000 to enter will receive the complimentary replenishing box of cheese and bread and meat. Once you've clicked the link, you'll enter your email address and within an hour you'll receive a promo code for a free, large original or thin-crust pizza with one topping of your choice. That code will be valid only once and work through January 28, 2018.
Thursday's batch of 10,000 free pizzas were claimed in a matter of minutes, but you still have a shot to score a free pizza on Friday and Saturday. As long as you never log off Twitter, this should be no problem (or pro-tip: you can set up mobile push alerts for all tweets from the Papa John's account).
Sign up here for our daily Thrillist email and subscribe here for our YouTube channel to get your fix of the best in food/drink/fun.
James Chrisman is a News Writer at Thrillist who has yet to see any evidence that 2018 exists. Send news tips to news@thrillist.com and follow him on Twitter @james_chrisman2.