Papa John's Just Added Its First New Crust Flavor in 35 Years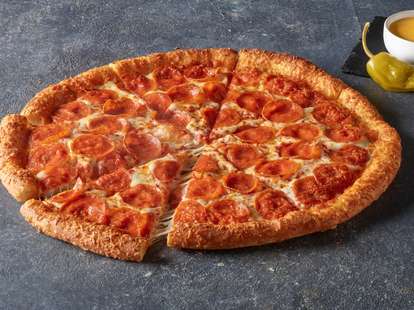 Papa John's signature garlic crust just got a whole lot cheesier. For the first time in 35 years, the pizza chain has unleashed an entirely new crust for fans who want something even more savory: Garlic Parmesan Crust. Like most things at Papa John's, garlic is the key and cheese is a happy addition.
"There's a lot of fan love for Papa John's signature Garlic Sauce, so we knew our first-ever innovation of our original crust had to feature it," Paul Fabre, senior vice president of menu strategy and innovation at Papa John's, said in a press release. "Papa John's is all about quality, and we don't put anything on the menu that doesn't meet our standards. It's the first time we're adding flavor to our fresh, never-frozen original dough and we are doing it with high quality ingredients that our guests love."
The new crust takes Papa John's original garlic dusted crust and bakes salty parmesan straight into the dough for a crispy, cheesy, and fragrant pie. And as there's no such thing as too much garlic, the pizza is served up with Papa John's signature, buttery garlic dip.
You can now get a 1-topping pizza, complete with a garlic parmesan crust, for $10 using the promo code CHEESYCRUST, according to a spokesperson. The garlic parmesan crust may also be subbed out on any other pizza, including Papa John's specialities.
Additionally, to celebrate the the launch, Papa John's is selling the limited-edition Garlic Parmesan Crust Luster pizza, which is 90% crust surrounding a small circle of sauce, cheese, and toppings. This is the type of pizza you order if you're actually craving cheesy bread or want to dunk copious amounts of dough in garlic sauce and don't care much for tomato sauce and pepperoni. The pizza is available November 4 to November 10 at participating locations in the following cities:
Atlanta – 990 State Street NW
Chicago – 230 W Division Street
Dallas – 3501 McKinney Avenue
Los Angeles – 701 W East Cesar E Chavez Avenue, Suite 109
Miami – 1315 W 49th Street, Hialeah, Fl.
New York City – 896 Amsterdam Avenue
Just don't forget to kick your breath up a notch with that buttery garlic dip, because -- again -- you can never have too much garlic.
Sign up here for our daily Thrillist email and subscribe here for our YouTube channel to get your fix of the best in food/drink/fun.
Kat Thompson is a staff writer at Thrillist. Follow her on Twitter @katthompsonn.