Papa John's Is Losing Sponsorship Deals With Tons of Pro Sports Teams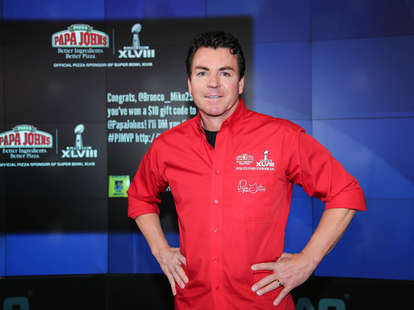 Photo by Rob Kim/Getty Images
Photo by Rob Kim/Getty Images
Papa John's is losing out on lucrative sponsorship deals across the professional sports world after its founder John Schnatter used a racial slur in a conference call in May. Revealed in a report by Forbes, news of Schnatter's racist remark has had swift and devastating consequences for the global pizza brand.
According to Fortune, a variety of pro sports franchises, predominantly in Major League Baseball, are severing ties with the embattled pizza chain, which has already pledged to erase Schnatter's likeness from its marketing materials following the incident.
In the aftermath, in which Schnatter admitted to using the n-word during a media sensitivity training session, the founder resigned from his post as company chairman. Previously, he served as its CEO, but resigned from that position last year after his remarks about NFL national anthem protests prompted backlash.
Major League Baseball's reaction was very swift, with the New York Yankees and Miami Marlins tweeting out statements on Friday:
Yahoo Sports reports that MLB has suspended its Papa Slam promotion, which offers customers 40% off pizzas ordered the same day a batter hits a grand slam. Currently, the promotion remains unchanged on MLB's website. A glut of other baseball teams have either severed ties completely or suspended sponsorships with Papa John's, including the Seattle Mariners, Tampa Bay Rays, Atlanta Braves, Baltimore Orioles, Kansas City Royals, Minnesota Twins, Texas Rangers and the Washington Nationals, per Fortune.
Additionally, the University of Louisville announced a plan on Friday to remove the Papa John's name from the university's Cardinals Stadium, while the mayor of Schnatter's Indiana hometown returned a $400,000 donation Schnatter made to restore an historic gym. The NFL's Atlanta Falcons and Major League Soccer's Atlanta United have also suspended partnerships with Papa Johns.
Schnatter apologized in an emailed statement to Forbes after his racist remark was made public, writing:
"News reports attributing the use of inappropriate and hurtful language to me during a media training session regarding race are true," he said. "Regardless of the context, I apologize. Simply stated, racism has no place in our society.
Sign up here for our daily Thrillist email and subscribe here for our YouTube channel to get your fix of the best in food/drink/fun.
 
Sam Blum is a News Staff Writer for Thrillist. He's also a martial arts and music nerd who appreciates a fine sandwich and cute dogs. Find his clips in The Guardian, Rolling Stone, The A.V. Club and Esquire. He's on Twitter @Blumnessmonster.